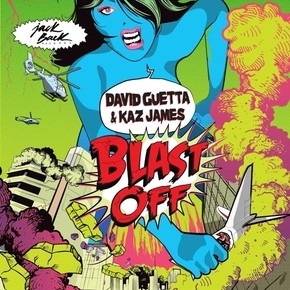 Following the release of new collaborative single 'Blast Off', David Guetta & Kaz James have unveiled an exclusive lyric video to accompany the track. Presented in an innovative cartoon strip format akin to Guetta's previous, Beatport chart-topping club releases 'Shot Me Down' and 'Bad', it provides a visually engaging, conceptual twist on the single itself.
Watch here: http://bit.ly/UFhVhm
Buy at Beatport here: http://btprt.dj/1lipILr
Based around the vivid imagination of an aspiring cartoon guitarist, the video tells the story of his preparations for a live show and the subsequent emotions that come with performing. Quirky, colourful and uniquely pieced together, it references classic films like'Godzilla' and 'King Kong' in depicting an unlikely bond between guitarist and an all-conquering cartoon giant, as she rampages through a fictional city. Complimenting the high-energy, raucous nature of 'Blast Off', the video certainly serves as a great addition to the single and will be sure to prove a big hit with fans.