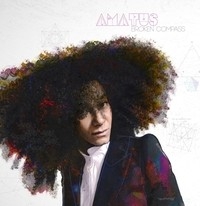 Amatus is an interesting soul to say the least. She grew up in a rough neighborhood in Chicago and lived in Philadelphia and ended up in Brooklyn, NY. She is no stranger to hard times and loss of close family members to gun violence, but puts her energy into her music for a positive spin on some negative times.
Soundcloud:
https://soundcloud.com/amatus/sets/amatus-broken-compass
Bandcamp:
http://amatus.bandcamp.com
Her debut EP, Broken Compass is tantalizing and pure. She has a blend of brooding instrumentation with a dash of hip hop and undeniable soul that comes straight from the heart.
She is a vocalist, songwriter, producer and media artist. She uses her limitless talent to make the world a much prettier place. Her soaring angelic voice is hypnotizing and wraps around artistically driven beats. At times haunting and other times a fresh pleasantness.
The music is a percussive based vibe that is melodious and driven with purpose. The instrumentation is a dictionary redefining each individual word.  The song, Cherish is the best example of the simplicity that brings so much depth.
"Messin" directed by Ash Innovator
http://www.youtube.com/watch?v=a-GGono4M1A
"Cherish" directed by Tchaiko Omawale and shot by Bradford Young
http://www.youtube.com/watch?v=Nrg8MzseOs8
Amatus' debut EP, Broken Compass is a lucent body of work that shines and gives meaning and hope to a harsh world. The mellowness allows comfort and time to unwind and let go of frustrations and inhibitions. Soon you are drifting into her dreams and taken to another world. This is a place you will never want to leave and the only way to get there is to listen intently.
I rate 4 out 5
Rebecca Hosking – hoskingrebecca@gmail.com