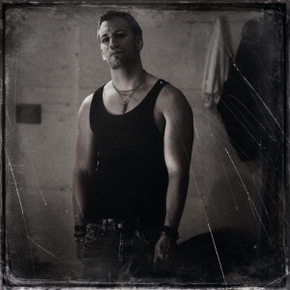 It is rare that an independent artist can make inroads without proper management but sometimes there are exceptions. That would be the case for crossover artist Marty McKay. Marty who is a native of Zurich, Switzerland has managed to build contacts not just in his backyard in Europe but in the US as well. As a youth he was always interested in the beauty of music which is evident in his debut album "Sin's Disciple".
Marty was influenced by bands like Linkin Park and Hip Hop artists Vanilla Ice. Essentially on his trails as a musician he not only met Vanilla Ice but performed with him. He first was introduced to Vanilla Ice's music in 1997 and then joined him on stage in 2010. That experience stayed with him for long time.
"I enjoyed his music regardless of his image. Music should be about music not gimmicks."
His talent as a DJ was clear as he learned to master the turntable. Marty's humble beginnings began while spinning at hip-hop shows and private events. These events earned him the opportunity to appear as a live DJ on national television. This is what opened the door to him doing shows across Germany, UK and the Netherlands with Vanilla Ice. He also performed at the Glastonbury Festival.
Marty then took his luck across the ocean to California.
After spending a year in California he developed the idea for a multi-media project. The concept of "Sin's Disciple" was born while he was living in Los Angeles. His idea was to deliver an album that had a message. The album "Sin's Disciple" is meant to be a trip that delves into human behavior.
"It is human behavior what is within us. I believe there is a higher being for all of us. I never meant the album to be a religious point of view. It is meant to envelope all human behavior. I studied this subject on my own with no formal training especially the Seven Deadly Sins."
The album was recorded in Thun, Switzerland. Marty worked with platinum producer Thomas J. Gyger and the Swedish Fredrik Stromberg. He also laid down lyrics with Hip Hop artists Chino XL and Canibus. But Marty did not stop there he also decided to add a graphic novel that was translated by David McAfee. The graphic novel is two hundred pages long which was put together by artist's Gabriel Valucho (coloring) and Ronison (inker).
"I wanted to develop a CD along with a graphic novel as a unique way of experiencing music. The music is not based on "hits" but just music to inspire. It is not based on auto-tuning I wanted it to be music you can listen to five years from now and not pin point when it was produced like it is timeless."
The album has been out since April and is doing better in sales in the US and UK then it is in his hometown, Zurich. He attributes this to the fact that the American and UK markets are more open to music of mixed genres. "Sin's of Discipline" has 13 tracks that take you on a musical/ theatrical journey. It weaves through rock, pop and alternative rap genres. The album can be viewed at the following link https://soundcloud.com/martymckay
Currently Marty is working on his next work of art that will probably be a little more complex. He wants it to entail parallel universes. Marty is not only a DJ but also a pianist. He hopes to expand on his latest album and bring more awareness of the human spirit to life. The album is available at Amazon and iTunes. To keep up with Marty visit his site at
http://www.martymckay.com/music/
by Nick Christophers