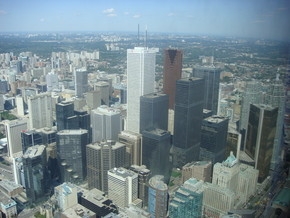 Naming the best cities to live in all year round depends on what you consider important qualities in a city. Some people have to have great weather; others prefer a rocking nightlife. If you are young and value a youthful atmosphere, read on to find a list of the best cities for young people.
What makes a city a good location for young people? Several factors are considered, such as low rent, gas prices, utilities, and other living costs, and availability of locations like coffee shops, takeout restaurants, laundromats, and hangout spots. This list is not comprehensive, nor is it free from debate, but the cities mentioned here have been named, for one reason or another, to be great places for young individuals.
1. Toronto (Photo)
Multiple people have names Toronto as the best city for young people to live in.  Apparently Toronto is a popular location for entrepreneurs, as it is the home of over 600 startups. Not only does that make it a prime location for starting up a tech business, it also means there are plenty of job opportunities. Condos are always for sale in Toronto, and according to Streetcar, urban areas of Toronto are rich with culture, offer great options for shopping and entertainment, and have good transit systems.
2. San Francisco
San Francisco ranked really well in categories such as average income, public transportation, and density of restaurants and other services. California is famous for its sunny weather and moderate coastal climate. What says "youth" more than days spent surfing or soaking up some sun on the beach? The Bay area is known for being green, and has the highest percentage of people who commute on foot or bike.
3. London
London is a cultural hub. Not only is it diverse in culture, there are over 300 languages that are regularly spoken in the city. As long as you don't mind a little rain and some traffic, London and its 43 universities could be the perfect place for any young individual. Don't let traffic stop you, however, because it is entirely possible to get around the city without owning a car, thanks to "The Tube" (underground trains).
4. Colorado Springs
As strange as this city looks listed next to big locations like San Francisco and London, multiple sources list Colorado Springs as a great destination for young people. The cost of living is lower than the national average, and there are numerous job opportunities perfect for college-aged individuals. Colorado Springs is perfect for young people who have a love for the great outdoors, as it is situated right up against the beautiful Rockies.
5. Tokyo
Tokyo is famous for its buzzing night life, so it's no wonder it is one of the most youthful cities. Not every city can have it all, however, so the trade-off is Tokyo's high cost of living. Despite it being an expensive place to live, it is one of the best places for young professionals to achieve economic status. Tokyo also has excellent transportation and plenty of culture.
If you are young and want to live in a youthful cities, these five are perfect options. Decide what you are looking for in a city—culture, cost, nightlife, and so on, and then find the youthful city that best fits your needs.
Image Source: http://upload.wikimedia.org/wikipedia/commons/8/82/Toronto_City_(View_from_CN_Tower)_01.JPG