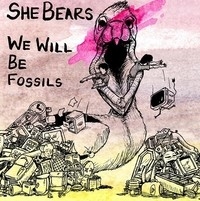 Columbus Ohio based band She Bears just released their latest CD We Will Be Fossils (2014).  This CD contains a tenrocked out collection of recordings from different musical styles and a wide spectrum of emotions. Band includes Band members include Alex Douglas (Guitar, Keys, Bells), Alex Eiler (Drums, Vocals), Ryan Franz (Bass), Stephen Pence (Guitar, Vocals).
As a result "We Will Be Fossils" is an exciting album full of music that displays a ring of truth It also shows what happens when a band has the courage to let their musical hair down without any unfettered limitation. All songs on the album are shining examples of modern alt-rock that will grab your attention and never once let go. The CD commences with "Sorry Abbey" and "Heathens". Straight away this 4 piece led by Eiler makes their presence known via these catchy openers. There sound is cut from the same cloth as Dashboard Confessional, City and Couloir, Brand of Horses, Modest Mouse, Fleet Fixes, Jet and Bloc Party. However – I can also hear Flat Duo Jets, Karen Elson, and Kasbian. All ten pieces offer a powerful mixture of themes and melodies that "keep it real" by exploring the polarizing underbelly of Alternative Rock – at its core. All this meshed with a sizzling Punk band after-taste it's no wonder this band is on my radar screens. All members are capable players and each member show a lot of musical diversity, but are conservative nonetheless. A few tracks provide an easy going musical backdrop to be enjoyed during any activity "The Breaks", "Wet Shirt" and "Fossils" but be warned a few will shake the tree a bit as well "Paper Boats" and "Good Light/Late Night" During my research of this band I also discovered they have a killer live presentation. From start to finish this CD is "true to form" alt-rock with intellectually stimulating lyrics and foreboding overtone reminiscent of all the aforementioned bands listed. She Bears capture lightning in a bottle on "We Will Be Fossils" and offers a unique opportunity to get into something special and real via their synergetic sound.
We Will Be Fossils is an album that sets the mood all too well – but is guilty of being a bit repetitive.  The mix although adequate lacks a modern day dynamic. I might add the bar is set really high for artists like She Bears as this is 2014.
In the end She Bears is worthy of you time. Their sounds and musical theatrics can be appreciated by any fan – whether in the UK of abroad.
Label: Independent Artist
URL: http://weareshebears.bandcamp.com/
by Ryan Chambers edited by Michael Rand
Review comments: therandbrand@gmail.com