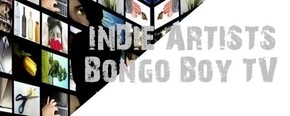 Isn't it about time your band makes it big?
Here's your shot with Bongo Boy TV Shows – an unprecedented TV show series that brings Indie Music to over 3.5 Millions cable subscribers in the USA. Starting with the next episode we can feature your band's music video on 20 TV channels,125 times in 4 weeks 6 days a week in cities like New York City,  Music City Nashville and many more towns across the USA. All on Public Access TV. (NBC Comcast, FiOS, Time Warner Cable, RCN, CableVision and AT&T)
Like Indie band Scary Cherry and The Bang Bangs from Texas puts it "Bongo Boy TV it's like watching MTV when it was cool!"
All Genres Welcome and Reviewed*
Starting TODAY,  BBRRTV is calling out to all unsigned musical acts to participate of all genre.
HERE'S HOW TO SUBMIT TODAY:
Step 1: Email us your direct online link to your HD Music Video.
Step 2: Write in the subject line "Indie Music Video Submission"
Step 3: Write in the email Yourbandname.
Step 4: Send the above to bongoboytv@aol.com
Hurry. All entries will be reviewed by Bongo Boy Records A&R director, BBTV Producers & other music industry professionals that support Indie Music.
Bongo Boy Rock n' Roll TV Show "Indie Music Videos From Around The World" is on Television and also 24/7 online. Each month a new show.
It might as well be you so submit your band now!
*If the video has no profanity, nudity, explicit sexual scenes, and is of our broadcast quality standard , then we can approve the video for air.
If we accept your submission, all submissions then must be, without exception, be accompanied by a fully completed and signed video license agreement form and a full payment of $100.00 promo sponsorship/underwriter support. Otherwise your video will not be aired on TV. We accept payment via Pay Pal.
Why pay? your sponsorship gives you the opportunity to promote your music on real television and Bongo Boy TV will include you in all their promotions like in BBR newsletters, post your band on all Bongo Boy social medias, press releases, Vimeo/BongoBoyTV Channel and on Bongo Boy Records' website. $100.00 is an introduction cost for your BBTV sponsorship for airing the Music Video 6 days a week, 4 weeks straight, 125 times in 1 month and all that above. Bongo Boy TV is Not For Profit.
Contact: http://www.bongoboytv.com and email bongoboytv@aol.com
Social Media:
https://www.facebook.com/bongoboytv
http://www.twitter.com/bongoboyrecords
https://vimeo.com/channels/bongoboytv