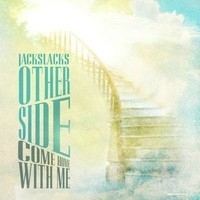 The Jackslacks just dropped 2 new singles – (Other Side/Come Home With Me) under Bungalo Records. Right from the start this surging band led my guitarist/vocalist Jackslacks stands out from other artists in a good way within this overly saturated market. His  answer to mundane music is to deliver something that will make you want to tap your foot, hum  along or get up and dance. In this overly saturated market with a plethora of Do it Yourself artists coming out of the woodwork, armed with nothing more than a PC, Microphone, a guitar and a crappy sounding CD – it's nice to know there are a few artists out there that can still deliver music/plying that will make your jaw hit the floor while inspiring you to start a party at the same time. These new artists I speak of manage push their music out to the world and much of it is, do I dare say substandard in nature. So enter a hot band like Jackslacks who just released their latest 2 singles (Other Side/Come Home With Me) in 2014.
So what do artists like Gene Vincent, Frantic Flintstones, Long Tall Texans, Guana Batz, The Cramps have that Jackslacks don't? Not much if you ask me save the multi million dollars promotional machines and major record label support. This is a red hot band that breaks the mold with their classic rock sound and amazing movements that will mesmerize both the novice and these latest 2 songs are shall I say "off the hook good" with entertaining songwriting that  has deep seeded 50's rock roots but also possesses elements of melodic rock and a dash of Psychobilly. Track 1 (Other Side) has a sizzling feel to them while (Come Home With Me) has more of a hotter aftertaste. The playing skills of Jackslacks behind the mic and 6 string is to die for. Their sound is all over the map but manage to never cross into "freak show" territory. Cited Influences are: Carl Perkins, The Beach Boys, Traveling Wilburys.
Credits: Jackslacks: Lead vocals & drums, Bill Giorgio electric guitar, Taylor Giorgio violin, Billy Giorgio backing vocals, Chris Cote acoustic guitar, Mark Fahl electric guitar, Bill Grubbs upright bass, Dave Roof piano.Produced by Mike Kamoo & Jackslacks.
But getting back to this band – they are a premier talent down in San Diego. Jackslacks  voice/guitar combo is intoxicating and is like a drug, and with their arsenal of experienced players he gently takes you by the hand and leads you down an impassioned 2 track journey. Right now after hearing the music of Jackslacks I must say they are the quintessential 50's style band the world needs right now. I don't say stuff like that often. They are at the top of their game. All in all these 2 tracks are a great musical advent. Even if this style of music is not your favorite – I highly encourage to take a fresh listen via the below link. Apparently there are still a few bands out there believe in playing music the way it is meant to be played.
URL: http://www.reverbnation.com/jackslacks
Rating: 4/5 Stars
by Gwen Brooks edited by Mindy McCall.
Review Comments: indiemindymccall@gmail.com