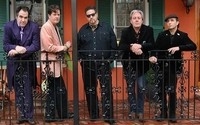 TLH features the main members Paul Schmitz on guitar/vocals, Michael Meehan on bass/vocals, Russ Seeger on guitar/vocals, and the added talents of Chris James keys/vocals, and Tom Ryan on drums.  The songs were written by the three member core, and relayed in story form.  When you listen to this release, it's obvious who their influences are. The group has a bit of a 60's laid back sound as well as a 70's hippy vibe. 
The Wreckage sounds a little like The Byrds musically and delivery wise.  Whisper is a little more bluesy and moody.  Dreams is a little Dr. John sounding, storytelling with a Cajun feel.  Unforgiven Man follows the same pattern.  Gone Directly is a medium paced song that conjures up The Grateful Dead.  Jenny Jones tells a story about a slightly evil woman of course.  Desiree is another woman story, in a catchy sing-along sort of way.  Save The Farm is a slower shuffle dealing with I guess, the virtues of a farm.  Cardinal is a relationship song, that has a great line, "You're so in love with you".  Sin Of Pride is a ballad of sorts about life, done in Johnny Cash fashion.  Streetlights is a ballad/dirge like thing that would be right at home when played at a New Orleans funeral. 
TLH songs are done in a familiar distant storytelling format.  This release is a bit unique in today's music genre.  TLH definitely doesn't sound like any of the other offerings coming out.  Take a listen and develop your own comparisons!
By R.M. Engelman