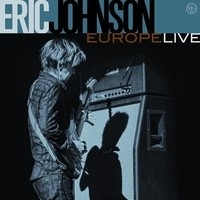 Texan EJ has always been right at home standing back to back and sharing the stage with other top guitar slingers like Steve Vai, Joe Satriani, Jonny Lang, and everyone on the Experience Hendrix tour.  On occasion, and during solo tours you get to hear Eric sing, which he also does well.  One thing is a given, his Strat will always have that smooth bell-like tone.  After seven studio albums, he is releasing this live version of his favorites.  This tour recording features Wayne Salzmann on drums/vocals, and Chris Maresh on bass.  The release was recorded at gigs in Amsterdam, Koln Germany, and Paris. 
http://www.mascotlabelgroup.com/ericjohnson-liveineurope.html
Forty Mile Town is a nice slow ballad with some tricky guitar work.  Cliff Of Dover is one of his signature songs, and he delivers here.  Zenland is a quick jazz/fusion instrumental much like Jeff Beck favors.   Austin is sort of an autobiographical song, with a jazz flavored guitar background.  Eric kills it on John Coltrane's Mr. P.C.  Evinrude Fever  is a fast rocker, evidently named after the famous outboard.  Song For Life is an acoustic nice slow paced melodic thing.  Fatdaddy is a fast fingered tune, delivered Mark Knopfler style. 
The drum and bass work is exceptional and compliments Eric's style and presentation, and the solos fit in with the show format.  It's hard to describe Eric's capabilities, as he is always right at the top of his game.  Personally, he's a shy soft spoken guy, but as friendly as they come.  This release is definitely a guitar lesson of sorts.  Watching and listening to EJ play live, leaves you with two alternatives.  Go home and practice more, or give up and just burn your guitar!  It's artistry on a fret board 101!  
By R.M. Engelman