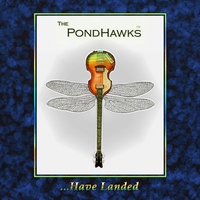 One of Chicago's top indie pop bands are The Pondhawks, who are making a spash not just locally but also abroad, with their brand of cheeky soft rock.
The Beatles are the first thing that comes to mind, not necessarily the actual band, but the band members during their various solo adventures, Paul McCartney's solo & Wings music and The Beatles. "Cliff Note" starts off as a piano singer/songwriter type of song, with alot of oooh and aaah background harmonies.
The PondHawks Have Landed (14-song CD) Riverpool Records:
http://itunes.apple.com/us/album/the-pondhawks-have-landed/id363273087
http://cdbaby.com/cd/PondHawks
http://www.amazon.com/The-Pondhawks-Have-Landed/dp/B003DSQJRY
Next is "Crying Hyena" a continuation of the 60's and 70's revivalism that seems to be growing in popularity the last couple of years. "Dragonfly" features some interesting instruments, including a psychedelic sitar with effects.
"Crying Hyena"
http://www.youtube.com/watch?v=sW-E0fhL_Wo
"Fire Eyes" has a James Bond spy guitar vibe, or maybe Dick Dale… a tricked out reverb soaked riff that drives the track, along with the duo's trademark male/female harmonies. The 80's come sneaking in with "Midnight Howl" aka "Abacadabra" or some Squeeze.
"On The Phone With Thillerie" is next and has a somewhat Moody Blues-esque sound. The piano driven song is a nice diversion, think "Nights In White Satin"…
"Midnight Howl":
http://www.youtube.com/watch?v=clZHNT1PbJU
"Shattered Dreams, Broken Wings" continues into the moody territory. Borrowing heavily from "My Little Runaway" by Del Shannon, the song is both old and new. Celebrating the best of times long past while living it up for today and welcoming us into the future.
Next is "Start Over" which has more of an Eagles sound to it, mixed with an "Eye of the Tiger" type of power rock sound that was popular on AOR in the 80's.
"Stranded" begins like it might have been left off from an old Fleetwood Mac album. The female harmony vocals are cool and have a progressive gypsy feel to it. Very nice.
The album ends on "Sweet Dreams In The Rain" jumps back into the Beatles turf that they do so well. This is one band that actually welcomes the comparisons, and to be compared to one of the biggest names in the history of rock and roll is certainly nothing to sneeze at.
http://www.pondhawks.com
http://www.reverbnation.com/thepondhawks
http://facebook.com/thepondhawks
Douglas Garnett – douglas.garnett@gmail.com