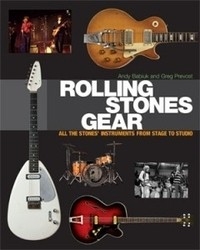 Talk about an obsession, this is 672 pages of Rolling Stones gear, trivia, and history.  The subtitle is "All The Stones' Equipment From Stage To Studio".  This five or so pound coffee table version (large table) tells you just about everything you wanted to know, or want to debate.  It begins covering the history of British blues from 1954 on, and the Stones' equipment from the time they were learning to play instruments, up through the present.  Andy, if you recall, wrote the comprehensive book Beatles Gear: All The Fab Four's Instruments From Stage To Studio.  It took him nine years to complete this, but the finished product is a great analysis of not only the Stones, but the early British blues/rock scene.
The book is full of what seems like a zillion pictures, including some rare photos and copies of vintage gear ads.  Fender, Gibson, Framus, Zemaitis, Martin, Vox, Music Man, Gretsch, Travis Bean, Dusenberg, ESP, and a bunch of lesser known and custom brands are all covered here. 
What's nice is that it also explains the relevance behind various guitars, amps, etc., and their influence and impact on the music industry.  You'll also get a lot of RS history and various types of concert information.  I know a few people that have sold Keith and Ronnie instruments, and they have humongous collections.  Even if you're not a huge Stones fan, you'll still find a lot of very cool stuff and anecdotal stories in this vast stack of pages.
http://www.amazon.com/Rolling-Stones-Gear-Instruments-Studio/dp/1617130923
By R.M. Engelman