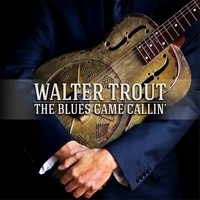 During the celebration of Walter's 25 years of being a solo artist (and some 50 years in the business) he was struck with severe liver problems, and is awaiting a transplant.  This release and an official biography will be available in June.  With the exception of a John Mayall and J.B. Lenoir cover, the songs here are originals.  A lot of the lyrics are driven by life's realities, as is his guitar work, and delivered in storytelling fret grinding form.  What is also neat about being a purist, most of his work is also available on that legendary large round format we all know and love, vinyl! 
As is his philosophy, basic guitar, bass, and drums are the primary focus.  Keys organ, and harp are only added as compliments.  For the most part, the release is slow blues numbers.  Wasting Away is a good tune, with some of WT's trademark tasty licks.  Title song The Blues Came Callin'  is a slow bluesy song.  Hard Time is another slower paced tune as is Born In The City.  Mayall's Piano Boogie is just that, a piano boogie.  The Bottom of The River  has a type of Cajun feel to it.  Willie tells the tale of a bad individual with some harp led guitar. 
Walter is one of the best touring journeyman blues guys, and hopefully he will get back better than ever on that long winding road circuit.  I'll compliment Walter by saying that one of his main purposes of writing a song, must be that he has a riff in his head and needs a place to put it!  
Rating: 3/5
By R.M. Engelman