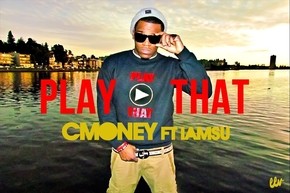 C-Money has got the single that you will need to keep the BBQ party going all weekend. "Play That" feat his boy IAMSU is quickly becoming an anthem. C-money, Raised in Oakland, California, actually grew up listening to a lot of east coast rappers. He gives you heartfelt music that he knows his fans will be able to relate to. C-Money is always working on his craft and "Play That" has got spins on BET's 106 & Park. This is the real deal people. Happy Memorial Day all over the world!
Skope: Where are we talking from today and whats up for the Memorial Day weekend?
I'm talking from the bay. And I have shows all weekend. So it's work as usual, lol.
Skope: When were you introduced to hip hop music and when did you start to make music?
Music has always been around me. I remember been real young an my older brother would play a lot of east coast music an they always had catchy punchline. So at the age of 17 I started to pursue music as a career.
Skope: When did you get the alias C-MOney and how does that alias rep you?
I got it from an uncle he used to always say. "You always on the money" an I just ran w/ it an it's reps me cuz I've had a expensive taste. So when you see me you C-money, ha ha.
Skope: Your bio states you grew up in Oakland, California but you listen to a lot of East Coast rappers. Why is that and who were your favorite?
Def. I just feel east coast was more competitive about rap. An no offense to my city or coast but around the early 90's the east had it on lock. An my favorites were: Nas, Wutang, Big L, Das Efx to name a few.
Buy:
https://itunes.apple.com/us/album/play-that-feat.-iamsu-single/id805277885?ls=1
Skope: I am feeling your song "Play That" ft. IAMSU. How did you hook up with IAMSU and come up with the concept for the song?
Me an us from the same area . I knew he was doing his thing an I reached out. He's a real humble guy an hard worker. The concept came wit us just vibing in the studio an just wanted to something diff. I rep hbk all day. S/o p-lo Kool john skipp an the whole squad.
Skope: How does it feel when you see the people feeling your song and giving you props?
It's amazing. The love is real. An it makes me wanna go even harder an take it to higher heights.
Skope: Give is an idea how you shop for beats and decide what you want to create a song too?
I treat beats like love. If it doesn't give the that tingle inside it's not the one. I like when I hear a track an words spill out…
Skope: Many rappers lie about their money & lifestyle. How do you feel about emcees that do that and how do you get inspired to write?
Everybody has their own struggle. So I try to not judge I just make sure I keep it 100 with my fans an people that believe in me. Usually a dope track can inspire me an sum good herbal essence lol. Also things around me can inspire to make a song.
Skope: Besides music what other hobbies are you into and do you work/school?
I love fashion. I'm into film, sports, an reading. Music is my job. It's paying so I'm staying. An no school since I graduated
Skope: 5 years from now where would you like to see C-Money and how do you plan to get there?
I plan to be on the road touring . I plan to have 5 times the fans respect an musical clout. An I feel hard work. Patience and the help from people like you an your mag will help me get there.
Skope: What is coming up for C-Money and where you @ online?
And u can find me online @twitter/mrplaythat, Instagram: Wholovemoney, Fb: eye cmoney walker. Do download the single off iTunes and check my Vevo channel: cmoneyvevo.