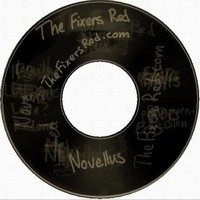 The Fixers Red is a one man band from Seattle that writes, records and produces his own songs. "Novellus" is his latest offering, and man what an offering it is. 19 songs, ranging from jazz to progressive altrock, there's alot of variety here, and the man behind The Fixers Red [Daniel Schauer] plays every instrument on the record.
The album starts out with a wonderfully optimistic instrumental track titled "Real Simple Variations" which has a jazzy funk vibe to it. There's a nice melodic lead that guides the song.
"Cautiously Optimistic" continues this flow, with the addition of vocals, creating another texture to this summertime good time track.
Listen – https://soundcloud.com/the_fixers_red
"Have You Lost Your Love" slows it down a bit, though the clean jazzlike guitars create a continuity throughout the album. "So many pages turn…"
"3/4 Simple Variations" shows more complexity and displays some cool jazz chops.
"Lam Vita (Now Life) has a progressive Latin sound to it. Full of choppy rythms and melodic storytelling, "Lam Vita" is pretty cool.
"Mayjer7 Song" brings things back to that optimism heard in the opening tracks. The vocals remind me of the late Curt Cobain if he sang in a jazz band and knew more than 3 chords.
"Carbon Dated" has a 70's Santana ring to it, followed by "Heavy Handed" which continues that 70's flow and is one of the few tracks that might give a glimpse of The Fixer's influences.
"Standard Groove" is a clean progrock number with alot of overlapping textures and odd chords.
"Unimpeachable" is so far the closest thing to a single as far as I can tell, very catchy with some interesting hooks and flow.
"What Happens If I" begins as a classical piece mixed with jazz guitar tones. Daniel Schauer is a very capable guitarist and this track demonstrates that he can combine complex structure into digestible arrangements that are pleasing to the earholes.
"You Know It's Too Late" has a sunny California indie sound to it. The breezy melodies are perfect for a lazy afternoon in the sun.
"Blacked Out" kicks off with a cool bass line before the tune funks out. There's an unnamed female singing the verses, and the harmonies are perfect for the song. "My New Bass Guitar" kicks off with a wahwah bassline reminiscent of 90's garage rock and drives the instrumental.
"Variations-Am+2" is a quick trip through an acid flash back. The song is followed by "Wintertime" which evens things out before heading into "Going Up", another jazzy and sunny tune full of crazy chords.
"Surfy Walkdown" continues to showcase The Fixers Red penchant for creating soothing yet fun songs full of contemplation and the album ends with "Seven Walkabout" which has a bit of a throwback sound, almost a Stray Cats sound, minus Brian Setzer's vocals.
If you're in the mood for something interesting and different, you should check out "Novellus" the album by Tacoma, WA one man band The Fixers Red. Out Now at http://thefixersred.com. Please show some support for independent artists that think outside of the mainstream. They're becoming more and more of a rare breed.
Douglas Garnett – Douglas.Garnett@gmail.com