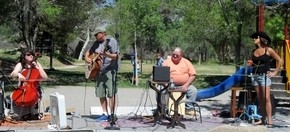 Less than a year ago Mark, Erika and Katie met at the apartment complex in Cottonwood, Arizona where they all reside. They immediately realized that they all have a passion and talent for music so they met up to jam and the rest is history! Reckoning Stone began working on their demo, and have so far recorded three songs. The full demo entitled 'Green' should be completed soon.
On April 12th the community of Cottonwood had its annual Charity Marathon event (http://cottonwoodaz.gov/parksrec/bmm/). It was a beautiful sunny spring day and once all the runners had crossed the finish line and the awards were presented, it was time for some music.  Reckoning Stone took the stage and their sweet sound filled the park.  This band was the perfect compliment to the beautiful serene setting and community sprit that was present. All three band members can sing and they harmonize beautifully. The guitar and cello complete the sound. The band is actively distributing their demo to local Wineries, Cafes and other venues in the surrounding area. 
Listen – http://k007.kiwi6.com/hotlink/xrfz1oc186/02_Track_2.mp3
 
Who writes your music?
Mark has been writing and creating music for many years.  With an arsenal of his own original songs, Katie and Eirka joined in to create the unique sound of Reckoning Stone. 
 
What do you want listeners to get from your music?
We want people to appreciate the groove of the music, and really feel it in their soul; let the music take them to another place, an escape from the same-old-same-old.  The majority of what we play is improvised at the time of the performance—it comes from the heart and the soul, and we hope others can feel and hear that as well. 
 
Who are your musical inspirations?
Musical inspirations include: JJ Gray, Rufus Wainwright, Beatles, Bob Dylan, Coldplay, Damien Rice, Dave Matthews, Valerie Thompson, Goli and many others
What do you see yourselves doing 5 years from now?
We plan to stay together as friends and as a band, and in five years we see ourselves with a couple albums completed and maybe doing small tours around Arizona or the U.S.
Contact: reckoningstone@gmail.com
In photo left to right: 
Katie Immel – Cello, Vocals
Mark Wright – Lyrics, Guitar, Vocals
Guest Accompianist
Erika Wszulkowski – Percussion, Vocals
Diana Olson – diolson05@yahoo.com