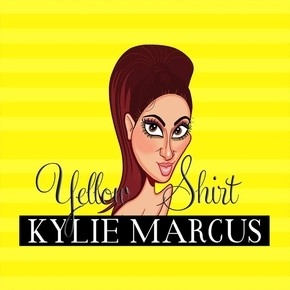 Pop singer Kylie Marcus is currently #4 on the Billboard hot singles sales charts and continuing to confound the industry as well as gaining fans around the world. With her hit single "Yellow Shirt", Kylie is poised for the 'next level' in her career as a pop singer/songstress. With a soulful, almost jazzy voice, the 21 year old has been compared to everyone from Barbara Streisand to Amy Winehouse. She's even been hailed as a female Bruno Mars.
The song is everywhere, I know, I did my homework, and her lyric video on YouTube shows a wry sense of humor about it all. Kylie seems to take it all in stride, but maybe I should just let her speak for herself…
Skope: First, tell us about the single "Yellow Shirt", how did it come about?
Kylie: I was in the studio with Jean-Michel Soupraya. He played me a recorded jam sesh he had from years back and told me to go in the booth and freestyle. I started singing "Hey, you. Yellow shirt…" and it kinda just stuck. We started working from there.   Eventually we brought in Franck Gelibert who co-wrote with us as well.  In the end, some of the most amazing musicians and engineers got involved in the track, from Guy Nasange-Akwa who was actually on the original jam to Paul Jackson Jr., JR Robinson, Luis Conte, Steve Sykes, Scott Frankfurt and Phil Tan and Chris Gehringer.  As a new artist, you can imagine, this was blowing my mind!  I'm so glad we did that freestyle!!
Skope: You're working with record producer/songwriter Jean-Michel Soupraya, how did the two of you meet?
Kylie: When I was still going to school in Chicago I went to perform at a JMWest LIVE! showcase held in LA.  JMWest Entertainment puts on the showcase for unsigned artists they think are "signable".   JM liked my voice and, after the show, we had a few meetings and next thing I knew I was signed!
Skope: Who are some of your musical inspirations and what got you into singing?
Kylie: I have a very eclectic music taste. You can find everything from musical theater to rap music on my iPod. I would say Michael Jackson is the biggest reason I got into singing and performing. I was always so fascinated by him.  When I was a kid I was writing songs; I wrote my first song at nine. I was listening to a lot of Jackson 5 and Michael Jasckson at the time.  My lyrics were super heavy, all about love and heartache.  I had a teacher at school who helped me record what I had written and my dad shared it with people who kept say, 'there is no way a nine year old wrote those words!'  I guess I figured, if Michael Jackson could sing about all this stuff as a kid, why couldn't I?
Skope: Your music is described as Pop/R&B but also gets into dance, soul and jazz. How would you describe what you do?
Kylie: Eclectic. Jean-Michel and I tried to make it so there was a song for everybody on the EP.  It was really important for him to show my range in these first few songs.  Now, we are back at work on new material and I am excited to see where that takes us. 
Skope: Back to your partnership with Jean-Michel, does he write the music and you write lyrics? How do you two work together? What's it like in the studio?
Kylie: He handles the music. I write the lyrics. Although we'll both dip into the other sometimes. It's very fun! Jean-Michel is so talented and wonderful to work with. And he knows me really well. That's really important when working with someone.
Skope: Were you surprised at the success of Yellow Shirt? Was it something unexpected to reach #4 on Billboard Charts?
Kylie: So surprised! So excited, so grateful. I didn't expect any of it at all.
Skope: I read that you have a new e.p. coming out "No Disguise", what can fans of Yellow Shirt expect?
Kylie: A full EP! Every song is different. Every song means something to me.  I rap a little and I really sing with my full voice, which are both things that will be new for people who have only heard "Yellow Shirt".  I keep getting tweets and Facebook messages about the ballad, "Walk On Water", and another mid-tempo R&B song "Something Wrong."  So, I think my full voice is the big surprise for "Yellow Shirt" fans.
"YELLOW SHIRT" by KYLIE MARCUS
http://www.youtube.com/watch?v=Lv8CGF24dIw
Skope: Will you be performing or touring in support of your music?
Kylie: I hope so!  I've been doing local shows in L.A. at The Mint, The Beverly Hills Hotel and I just finished a gig for 50,000 people at the inaugural Ktown Night Market in Los Angeles, which was awesome. I'm really looking forward to more!
Skope: How influential was your family in you becoming a singer?
Kylie: Extremely. They're my number one fans.
Skope: Where can people check out your music and social media sites?
Kylie: You can find everything anywhere you can download music, iTunes, Amazon etc.  "Yellow Shirt" is playing on radio across the US, so listen for it!   Also, you can connect with me at www.KylieMarcus.com or @Kylie_marcus on Twitter and Kylie Marcus Music on Facebook
Check out "Yellow Shirt" in case you haven't already heard it. Be warned, once you hear it, it'll be stuck in your head for days.
Douglas Garnett – Douglas.Garnett@gmail.com