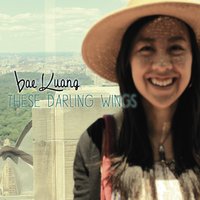 With her latest release, These Darling Wings shows off Bae Kuang's skills as a singer, lyricist, and composer. Opening with the EP's title track, her skills are gifts are immediately clear, balancing the tones like that of Norah Jones, Nina Persson, and even Stevie Nicks with soft, laid back instrumentation that is minimal yet commanding. The vocal melody is compelling, wandering over to minor notes when least expected, which adds extra seasoning to an already full-bodied piece.
'Some Other Day' is a classic swing track, with the snare drum wheezing under the gentle brushes. It's easy listening, it's jazz, it's lounge, but it's never once lazy and doesn't take the genre for granted.
Spotify – http://open.spotify.com/album/4K4cYO1a6J7mAmfhzALX1h
'Smoke Trails' sees Bae Kuang's vocal stepping up to the plate and offering a match for Carey Mulligan's sublime rendition of 'New York, New York'.
Moving things towards a more upbeat feel, 'Such A Fool' turns up the tempo and adds some funky guitars with a splash of wah-wah for good measure, before the EP moves on to single 'China Doll', a calm, acoustic guitar-led ballad with shades of Karen Carpenter and Eva Cassidy.
Bae Kuang's abilities are apparent, and with the release of These Darling Wings she has delivered a collection of beautiful songs that show off her skills.
By: Chris Marsh