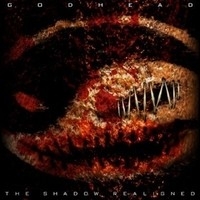 Godhead's latest release, The Shadow Realigned is a compilation of songs each produced by a different person creating a unique sound. This Goth band is some heavy hitters that have been on the scene for quite some time. They have built upon their momentum and have perfected their skills. Through their artistic richness they have built a career with longevity and respect. They have toured with Marilyn Manson, Linkin Park, Slipknot and many others and are a cut above the rest.
It is a cross between some hard hitting rock tunes to electronic dance mixes. A brilliant cover of Depeche Mode's, Never Let Me Down Again and Kiss', God of Thunder are both perfect examples of this band's diverse talent. Godhead is in your face, then can show a softer side, but whatever they are feeling at any given moment each and every song will thoroughly rock your socks off.
This CD is creativity at its best. It stretches its capacity and soars, even if you are not familiar or particularly like this genre the talent displayed in each note illuminates the airwaves. This is what I call art with an attitude; but, the attitude is pure with conviction.
"Your End Of Days" (Jamison Boaz Remix)
here: https://www.youtube.com/watch?v=CTMa4JNHB_c
Godhead rocks you to the core with, The Shadow Realigned. The best way to describe this band is calculating and oozing with genius distinction. I cannot say anything other than I'm thoroughly impressed. This band has built a career perfecting their uniqueness. Now excuse me please, while I go jam to my latest Godhead CD, you should join me.
I rate this 5 out of 5
Rebecca Hosking – hoskingrebecca@gmail.com