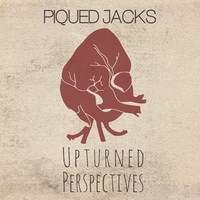 Funked-up and with their phasers set to stun, Piqued Jacks burst onto the scene with their latest EP Upturned Perspectives.
The title track strikes a balance between funk, indie-rock, and a sprinkling of country vibes running through the mix. Once the chorus kicks in, it's clearly a blazing piece which a strong hook that's immediately hummable, and at points moves towards more of an emo leaning in its general feel.
http://piquedjacks.bandcamp.com/track/upturned-perspectives
'No Bazooka' is softer in its approach, with wailing volume swells on the guitar, building towards a hefty chorus that could easily be a Taking Back Sunday track. At points the vocal gets a little lost in the mix, but it steps up when it really matters, blending well with the almost cinematic instrumentation. At points it begins to sound like Kent's epic '747', moving into a vast post-rock instrumental section before the track comes to its ultimate conclusion.
By: Chris Marsh