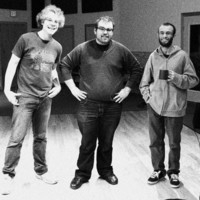 Kalamazoo, Michigan power trio, Fox has released a new 4 song EP entitled "Fox EP" and is available for a sample listen via the below BANDCAMP Link.
As a music fans aficionado who's strictly a voyeur, and /or a writer who's never played a lick or tried to fit different musical components together into a cohesive whole, I'm somewhat intrigued by the idea of a centerpiece band member like Chris Sinclair (Guitar/vocals) playing in a 3 piece band like Fox.  This surging Michigan based band is somewhat of a musical force. As if releasing music and beating the pavement over the last few years isn't enough, Chris Sinclair, John Lawrence and Carman Goodrich prove persistence pays off. Fox have managed to hit a home run with this, their latest 5 track teaser. It's a 5 track staple of Rock n' Roll simplicity proving again that good Old fashioned Rock n' Blues need not be taken too seriously – but never to be taken to lightly either.
Fox achieves their own distinctive style and yvoice in significant part by featuring the unique guitar/voice combination at the core of all these five songs. At the same time with all of the expanded tonal ranges and expressiveness that 3 instruments can dish out – making for a unique "high energy" sonic experience altogether. The ultimate beauty of this collection, though, is in the way Sinclair so weaves his ever lamenting battle cry in and out of the foreground of these tracks, playing a mostly supporting role on numbers like "Big Fred" and sarcastically brilliant "Apathetic People." Then taking the spotlight on more straight forward bluesy "High Tide Rising" and more explosive "The Morning."  Fox clearly feels equally as comfortable powering through the modern alt-rock grooves of the former as tiptoeing through the more contemplative, rock of the past contrails of the latter. On this EP Fox finds the seam between the two approaches, delivering a steady interlude of music in the midst of musical chaos making for a sizzling little EP. All of the songs un-fold in similar fashion as Sinclair and crew alternate solo/duo meditative moments with deftly executed, often-challenging rocked out syncopation. They are all quite the writers and players. Fox remind me of: Dirty Pretty Things, Editors, The Kooks, and White Lies. Vocally Sinclair has strong tonality and good off the charts intensity. The common thread throughout all of these pieces is Sinclair and his adventurous playing and open microphone musical vision. Because of this Jagged edge musical format this latest Fox EP courageously explores the boundaries between modern alt-rock and clever high energy classic rock music of the past with uncommon subtlety and fumbled grace.
Rating –3/5 Stars
URL: https://www.facebook.com/foxtheband
BANDCAMP: http://foxtheband.bandcamp.com/album/fox-ep
Barbara Cvek. Edited by Mindy McCall.
Review comments: indiemindymccall@gmail.com