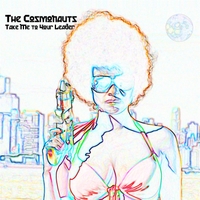 The Cosmonauts, in case you weren't aware, are a new wave funk band with their tongues firmly wedged in their cheeks. Their songs are filled with Soviet references and jokey faux-communist phrasings, with 'Space Debris' name checking Boris Yeltsin, Gorbachev and Vladimir Putin.
While the new wave aesthetic runs throughout the album, there are a range of styles threaded through Take Me To Your Leader – 'Afrika!' slips into an equatorial feel, while 'Malbecs & Candy' freaks out with psyche-rock vocals, slap bass, and funk guitars twanging ferociously.
http://cosmonautradio.bandcamp.com/
Further nods and winks are to be found on the thoroughly 2-step and ironically titled 'Reggae Is Vile', with its parping brass and gurning Bahamas-inflected vocals.
'Hanky Panky' throws caution to the wind, running through a surf-rock twelve bar blues number that is as energetic as it is ridiculous, with its Beach Boys style backing vocals and 'Wipeout' drums.
Take Me To Your Leader  might not be the most consistent album of the year, but it's certainly brave in its efforts, and covers a wide range of styles and influences, while retaining the new wave glue that holds it together as a whole.
https://www.facebook.com/cosmonautstheband
http://www.cdbaby.com/cd/thecosmonauts2
By: Chris Marsh