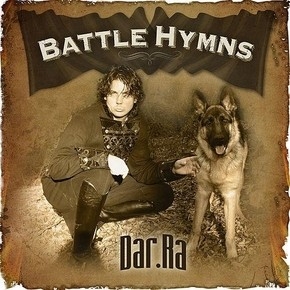 Hello to everyone all around the world, it is so good to be here again with you! As most know Skope is based in Boston, MA. Boston has an amazing live music scene and many cool festivals as well. Recently we had Earth Fest by Radio 92.9 FM. Due to the Boston Marathon terror attacks you could not bring coolers, blankets, or backpacks. All three of those items are crucial to enjoy a day of music and its a shame that thanks to 2 fanatic assholes, we all suffer. I recently came across this news story that Nettwerk Music Group is thrilled to announce the signing of Sinéad O'Connor to its worldwide label roster. I think this is great for both sides but I wonder if Sinead even needs a label in this digital age as she already has a cult follwing and could use social media to let fans know about the new album. Speaking of new albums, I am thrilled to have the talented and gracious Dar.Ra on here with his new album 'Battle Hymns.' Battle Hymns is a collection of songs written by UK writer and musician Dar.Ra , taken from various album and EP releases from the past 4 years. The songs go back further than that and actually chart from 2002 to 2014 making it a best of that period. I have included a link to hear the album via Spotify here as well. Joinn us as Dar.Ra speaks on everything from Kusha Deep Music, the new album, his love for vinyl, and so much more!
Stoli: Where are we talking from today and are you excited that spring/summer is upon us? 
We are deep in the countryside of East Sussex, and you do not know how much I am looking forward to the Summer, and some clear weather, after the wettest winter ever!
Stoli: At what age did you take on the name Dar.Ra and really start to see music as more than just a hobby?
Ah! Well, I was born with that name but its spelt a bit differently, its an Irish name, but growing up in England was difficult as no one could say it properly. Music was a no brainier for me as my options were to join the army or work in a factory.
I got signed to EMI when I was 21 and from then on I just kept making music. It was never about money though I just wanted to put out great records.
Stoli: You are with Kusha Deep Music. How did you hook up with them and how do you both work together to get your music out there?
I set up Kusha Deep Records after I got back from my second tour of Australia in 2003. After the change in the music industry in the late 90's it was becoming harder to get record deals, so instead of waiting around I decided to give a home to all the music I was working with.
I got a distribution deal in America and started putting out music myself. The first album I put out was a compilation of all the best material I had worked on from 1992-2002, which included big dance tracks by Urban Harmonix ft Rachel Brown from Faithless.
Stoli: What kind of mood and setting must you be in to write and play music?
Good question, It needs to be quiet and away from people, I always feel slightly shy of anyone hearing what I'm doing till I'm mastering the tracks, then I'm like, full blast, have a listen to this.
Its a great process to take something from a idea in your head to a fully mastered track.
Buy:
https://itunes.apple.com/us/album/battle-hymns/id866031643
http://www.amazon.com/Battle-Hymns-Dar-Ra/dp/B00J67NT38
Stoli: Your new album 'Battle Hymns' is out now. How did you choose the songs from the past 4 years to put on the album?
I think as an artist your never really happy with what you do and always think you could of done better. I had an album out called Soul Hours in 2009 and liked some of the tracks but felt they could be remastered better.
I took off the tracks I liked the most and mixed with with tracks from The Now Is Now EP then wrote two new tracks Kenetic and Firefly. I remastered the whole album in my studio and got what you hear.
I never thought I could master my own material, as your taught by major labels that your job is just to write and perform and all the technical stuff is done by engineers, but over the years I have sat in on so many sessions, I just thought, you know what? I could do it better myself.
Listen – https://play.spotify.com/album/0oeuVYjisI4nz30faBmjkB
Stoli: Why was the title 'Battle Hymns' appropriate name for this collection of music?
The album title reflects the fact that all these songs are about getting though the pressures that the world throws at you, be it financial, family issues or relationship issues.
The songs I write are always from some experience so when I listen back to a track like Kenetic I feel the energy of what I was going through.
Thats mainly about people always putting you down to make themselves feel better about their lives, and the lyric is saying 'Enough Already' I will not let you beat me down anymore.
Stoli: I love the song "Start Again." What is that song about and what inspired you to write the lyrics?
I wrote that in Auckland New Zealand while touring the North Island in 2002. Its about people believing that money will solve all your problems and finding out that the demons in your head will not stop shouting until you dig them out.
When you finally get free of the things that have been holding you back you can Start Again, fresh.
Once you have cleared the debris of the past and your mind is clear you can do whatever you choose, theres no limit to what you can achieve with a clear head.
Stoli: What comes first for you, the lyrics or the instrumentals?
I like to get a storyline first usually and then work the music out, but a lot of the time they come from jamming on the guitar and piano and signing a melody.
One thing I do not do is start programming beats and bleeps before I have a song to record.
Stoli: If you were to do a music video for 1 song from the album what would that be and what would be the theme?
I think as Kenetic is the first single it will be that one, although we just shot some footage for a track called Girl Like You.
Kenetic, is about, not letting peoples jealousy get the better of your plans and dreams. The chorus has the line 'Were Out Of The Shadows On Wings Of Wild Horses, Nothing To Stop Us For Miles' So it would feature horses galloping on vast beaches in the sun, horses being the symbol of freedom. I love that theme of rising out of the darkness and into the light.
Stoli: You have been in music was before downloads/streaming. Do you prefer the digital music or the physical format with CDs and vinyl?
Mmm! another good question. I will always love vinyl as thats what made me want to get into making music. When I signed a deal with Chrysalis Records and walked into the first meeting and saw all those records on the walls from bands like The Specials and Blondie, I just thought thats what I want to do is make those 4 minute symphonies.
The internet has changed the way people feel about music, I do not feel the MP3 has the same impact as a piece of vinyl. Music is more throwaway now. I still produce for Cd and vinyl release, and try to make records in the way they did back in the 60's and 70's with a 21st century buzz about it.
Stoli: Who are two musicians/bands that you listen to and enjoy their music?
Thats a hard one, if I only have two choices it would always be John Lennon and Otis Reading. John Lennon has always been someone that I found the greatest solace in through dark times and good times.
Otis is someone who just had the best vocal I ever heard, mixed with Booker T + the MGs and you got magic right there.
Stoli: What is coming up for Dar.Ra and where can we follow you online?
At the moment I am writing a book called Road Tales which is about the coolest people I met while on touring for ten years. All the stories have a twist to them and are uplifting tales of inspiration.
If your feeling like life is all uphill, these people will make you feel you can make it through the hardest times if you have faith in yourself and a higher power.
Also In the middle of that, I am promoting the Battle Hymns album and laying down songs for the next EP which I am hoping will be out before the end of the year.
If you would like to keep up with my adventures tune in via www.kushadeep.co.uk
Thanks Stoli.