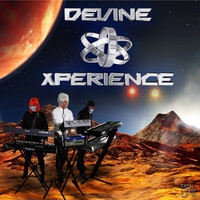 "My mind is in a dream" declares the chopped vocal on the opening track of The Devine Xperience's self-titled album, threaded through the track as a mantra that over time becomes increasingly unsettling, like the dream-within-a-dream concept of the Christopher Nolan film, Inception.
In the band's own words, the album "contains messages in the songs regarding politics, aliens, and various other controversial and transcendental subjects and will elevate the listener to a higher state of consciousness." A bold claim, for sure, but does The Devine Xperience achieve its aims? Well, yes and no. As previously mentioned, the mantra-like elements of the music draw the listener in, but there are frequent moments on the record where distractions appear and tend to break the reverie.
Stream the album in full at Soundcloud:
https://soundcloud.com/thedevinexperience/sets/the-devine-xperience
The album promo video is on Youtube:
https://www.youtube.com/watch?v=0b88S_DWnR4
'Strange Mutation' features the tones of a clave that shifts in and out of the mix, which holds the rhythm of the track, and yet when it shifts away there is a strange emptiness to the overall sound. 'Your Mind' draws on more relaxed, ambient tones, with squawking synth squeals and cyberpunk female vocals that blend with the dread filled bass to create a creepy S&M club epic.
'Alien Love Truth' brings together a multitude of interesting elements – pitch shifted vocals, house organs, and hip-hop snares. There's even a slight indie-rock sensibility running underneath the track should you choose to go looking for it.
More unsettling still, in a good way, is 'The Answer'. With hyper breakbeats, scratchy samples, and a sexed up breathy female vocal that gasps its way through the track, it's a compelling listen before the album draws to a close with 'Touch The Sky', a big, bold piece that throbs and judders along like early Prodigy tracks with scattered, chopped vocal samples.
At times incoherent, at others compelling, The Devine Xperience is an intriguing listen for anyone looking for some new electronic dance music with an industrial, transcendental edge to it.
Web: www.thedevinexperience.com
By Chris Marsh