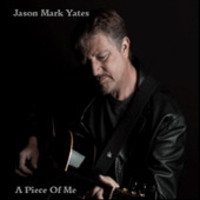 Jason Mark Yates is an award winning singer/songwriter out of the UK. His latest release, A Piece of Me, is being celebrated worldwide. Yates eats, sleeps, walks and talks creativity; from a very young age he sought solace and found comfort through music.
A Piece of Me, is a literal translation of Yates' world. I like the somber gentleness about this CD. It feels like he has opened the pages of his journals to the general public. He spills his deepest secrets into each song with no reservations. His voice is melted and joined with soft delicate harmonies that is executed so beautifully, your left mesmerized. The song, So Into You, is sung by Darcy Jeavons and is a delicate addition to this mellow compilation.
Yates has out done himself on this project. If you're looking for a alternate world away from the chaotic daily grind, look no further. This is a lovely escape into another plain, where silence is broken and blessed with heavenly music. It is a perfect mesh of instrumentation that feeds your heart and mind equally.
Jason Mark Yates' latest release, A Piece of Me, is giving each listener a tiny piece of a shattered heart. It is immeasurable with emotion and passion that makes you feel deeper than you knew was even possible. This is a musical experience you do not want to miss. Be sure to get your copy today and get ready to find yourself lost in a thought provoking trance.
I rate this 5 out of 5
Rebecca Hosking – hoskingrebecca@gmail.com