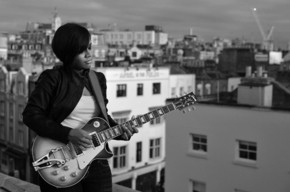 We take a look at some of the top independent artists in the UK in association with Labelled Independent, the new music podcast!
At Labelled Independent we like to make sure we're not limiting ourselves by pigeonholing ourselves into one genre. The fact is, if music is good, it's good. Whether it's guitar driven, electronic, loud, soft — in all its different forms, music has something to offer. So, in this column, we're going to recommend to you three separate artists from different genres, all of whom have plenty to offer.
First up, Resonance is the songwriting project of Radhika Rathinasabapathy. Currently living in the US having moved over from the UK, Radhika's take on genre is much like our own here at Labelled Independent. Refusing to work in one style, Resonance are building an ever widening fan base thanks to a variety of songs and approaches. Take for example their latest two singles — 'Mister Policeman' and 'Reverie'.
Mister Policeman: http://www.youtube.com/watch?v=1Tum0R9ggBs
Reverie: https://soundcloud.com/resonancemusicproject/reverie-mastered-jan-2014-mp3/s-csheb
The latter is light as feather, a calypso/samba number that sounds like a carnival party song full of melodic guitar lines. The Former is heavier, funky and chord driven. Both are excellent and come highly recommended.
Next, we would like to turn your attention to The Lowriders. Best suited to fans of British rock, indie and perhaps even the heavier end of brit-pop, The Lowriders are a Colchester (Essex) based four piece who also know a thing or two about heavy guitars. Their latest EP is available now, titled 'I Am Soldier' — a collection of indie tracks which are high on impact. And they have to be, seeing as they were specifically written for the soundtrack of a British movie about joining the Special Forces — a concept which packs a punch itself.
'I Am Soldier': https://soundcloud.com/the-lowriders/sets/i-am-soldier-ep/s-Tj13Z
Finally (last but certainly not least) comes NuBorg. Based in Norway, NuBorg is the new project from Norwegian singer-songwriter Gunhild Nyborg. Currently in the process of releasing her debut album track by track on the 15th of each month, the latest track 'Sliding Off the Edge of the World' is out now. It's a haunting, subtle piece that utilises a slow pace and a deliberate build/fade structure to keep the listener's ears reaching for more. With next month's single 'You You' also on the way (and also sounding excellent), NuBorg's debut album project is a long form release worth paying attention to.
'Sliding off the Edge of the World': https://www.youtube.com/watch?v=1plXmyy835o
So there you have it — a hat-trick of variety. Who says music has to fit in categories?
Photo: Resonance
By: Steve Boniface – labelledindependent@hotmail.co.uk
Founder: labelledindependentmusicpr.com – Labelled Independent music podcast, promotion & PR
Editor: themusicnewssite.com in association with @PitchMyStuff
Follow me at @LabelledIndyPod and @TheNewsSite