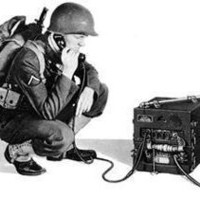 Who are the Sub Militia? SUB MILITIA are HACKR (Kalani Hackintosh), FUTR3 (Aaron Shier) & BR8KR (Travis Weathers). Formed in 2012 this band of musician's / Producer DJ's is based jointly out of Las Vegas, NV and Los Angeles, CA. So as luck would have it I spontaneously jumped over to their Soundcloud page (above link) to get a taste. With Sub Militia I get a sense of urgency. A need to capture the moments before they are gone and you forget. Sometimes, it's about the dust left behind by what just got burned off, and the sense of loss that comes with that. Sometimes it's about the flame, and that burning feeling – that sometimes painful feeling – of being alive, without being able to control much of anything. Sometimes, it's about the smoke, and how everything gets so blurry that it's impossible to see anything clearly, how everything gets so foggy that it feels like there is no plan, just luck, good or bad. In the end it's a real rush.
SOUNDCLOUD: https://soundcloud.com/submilitia
Sub Militia's sound defiantly has an American "Westwen" foundation compared to the European stuff I often listen to. The songwriting via these collection of 5 tracks: (Steppin Razor Trap, Hustlin (Featureing Myka 9, Hawaiian Lyon, A Plus), Away From me, Drop Bass Not Bombs, and Trap It Up, aims to promote more striking and stark messages than is common in harder elelectronica based music these days while not holding back at all from rocking out, or reducing the songs to a sanitized versions of themselves. Starting things off straight away with Track 1 "Steppin Razor Trap" it's an absolute appetizer with compartmentalized movement, progressive electro-rock ambience, melodic bass lines, and inviting synth melody that really sets the initial mood. All songs have a limitless feel that makes the world seem right but there is an invigorating sense of despair that your future might not look so bright as your past — hence the title of some of the songs are kind of dangerous.   This leads us right into one of my favorite tracks "Hustlin' and "Away from Me" in that order. These 2 songs have more of a direct and a harder approach, still with style and grace, as the tantalizing synth, drum, guitar redundancies. As the piece moves forward the guitar progression and rhythm section becomes louder. The song is a true ambient-dub Rock staple.
What I like about Sub Militia all songs featured are kind of bipolar or even passive/aggressive like with hard hitting "Trap It Up". The initial mood shifts gears a bit with danceable "Drop Beats not Bombs." There are no limitations when it comes to this amazing set of songs from Sub Militia. Sub Militia is in the deep end of the pool with acts like: Tommy Trach, Nicky Romero, AN21, Swanky Tubes and Albun Myers. Intermittent vocals (mainly on Hustlin') fit this sound like a hand in glove. The whole musical experience provides wonderful progressive energy and infectious hard rock ambience. All songs provide much in the way of musical latitude and psychedelic nuances.
Bravo to these three for keeping it real on the high side: HACKR (Kalani Hackintosh), FUTR3 (Aaron Shier) & BR8KR (Travis Weathers). All these songs are solid but the 2 most marketable standouts for me are Hustlin (Featuring Myka 9, Hawaiian Lyon, A Plus), and Drop Bass Not Bombs. Sub Militia adheres to the standard. I can honestly say it entertained me from start to finish armed with nothing more than an open mind and 30 minutes of time. Check out Sub Militia via the below link and be sure to fasten your seatbelts.
Score: 8/10 Stars
BEATPORT Download: http://dj.beatport.com/djhackr
By Richard Quinn. Approved and posted by Michael Rand.
Comments: therandbrand@gmail.com