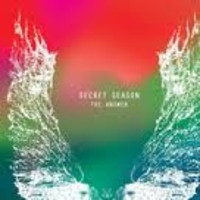 This CD is the third release from Secret Season a 2 person musical project from France of all places. Any band 3 albums into it a musical career are clearly focused and dedicated to their craft. Secret Season is no exception. This release includes a nice variety of songs and sounds. Recorded on the Seine river, The Answer includes songs that can be described as rock, blues, oldies, trip-hop, space rock and country. All songs are written by Secret Season, meaning Mark Moogalian and Isabelle Risacher, who also play all the instruments.
The Answer was recorded over a 17-month period, making it the longest-lasting Secret Season recording project to date. The album also features trumpet and musical saw on a few tracks, a first for Secret Season. The duo consists of Mark Moogalian on vocals, guitars, drums, trumpet, musical saw and Isabelle Risacher on vocals, keyboards and flutes. The CD opens up with the sunny title track and the quasi-anthemic toe-tapping "Love Monkey" and "Distraction of Love" which would even make bands like The Lumineers, The Secret Sisters and Ingrid Michaelson jealous. These are   three great opening statements which are made up of fairly straightforward alt-pop love songs. I say alt-pop rather than rock. Many songs on "The Answer" feature catchy guitar licks, vocals, keyboards, drums and bass as primaries. Vocally Moogalian and Risacher work well together in unison and apart. Vocals from Moogalian and Risacher are hardly unique, but they can hit all his notes easily, and their tone is just as friendly as their melodies are. There's a certain amount of mood assigned to each track as well. The first few times I listened to it I was utterly keyed up by it. These songs are not overly bright and happy either, and both Moogalian and Risacher know how to write a captivating melody. What is there not to like about all of this? The   strong first impression did not subside as the album progressed forward. The next few songs "Everything Changes", "Life's a Mystery" and "The Equation" keep it consistent and are the strongest territory for this record. I would even wager some of these songs could have been big in the mid-'90s on alternative Rock Radio. There's something that screams mid-'90s when I listen to this music – and this is a compliment. Many feel the 90's were that last good decade of Alternative Rock, and I would tend to agree. 'Dandelion Dragonfly" is one of those songs that grows on you. This earthy offering has hidden moments of soft rock and folk which add depth to the album providing a   mature sound and singer/songwriter type feel to it. All songs on "The Answer" have solid rhythm, featuring an involving bass-line that interacts well with this light programmed drum beats. The overall music is excellent that not only contains strong hooks, but it seems to soar at times. My favorite track is: "Everything Changes."
My only negative comment:   Usually the bass does nothing more throughout the album than mechanically play the same note over and over again, and the drum machine textures are similarly unimaginative. I can't tell if this is a live drummer or not.
But as I said, this is a happy album with friendly melodies, and you'll probably like it if you want something unpretentious to put you into a good mood. It's a mood album for sure and a great paring like Secret Season know how to record, package, and deliver it well. There's not really a bad track on this album, and it is available via CD BABY Below.
URL: http://www.secret-season.com/boutique/
Rating: GOOD
CD BABY: http://www.cdbaby.com/cd/secretseason3
Timothy Poe. Approved by Michael Rand
Review comments: therandbrand@gmail.com