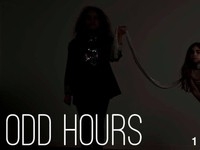 In a little over three minutes, Odd Hours thump out a tightly executed post-punk track masquerading as pop, in the shape of single 'Khaleesi'.
The vocals are snide and snarky, sounding not unlike EMA or, at times, Courtney Love. The guitars sound fantastic, by the way, with the kind of tone found on mid to late 90s 4AD records.
Watch the video here:
https://www.youtube.com/watch?v=Uh4CpIlPduw
Stream the single here:
https://soundcloud.com/oddhours/khaleesi-by-odd-hours
While Odd Hours seem to want to come across as weird, kooky, and experimental, 'Khaleesi' is remarkably accessible. The real freak-out moment of the track is around the two minute mark, where the pitch shifted guitars crank up the Whammy to create an alien sounding attack of splintering riffs.
It's worth giving the music video a look, if only to see the very fun imitation of the K Foundation's infamous action of burning £1M and capturing it on tape.
With 'Khaleesi', Odd Hours have created an enigmatic three minute pop song that once heard, will stick in your brain for some time.
Website: http://www.oddhoursmusic.com/
Bandcamp: http://oddhours.bandcamp.com/
By Chris Marsh