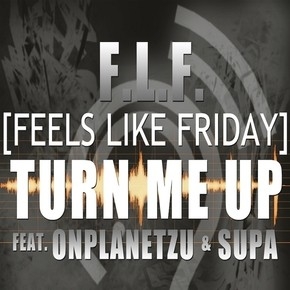 GALILEE aka DiGDuGDisaster is known here at Skope as a writer and graphic artist, but he's also a prolific and diverse songwriter and music producer, with publishing deals on both coasts, a distribution deal and songs featured in upcoming films. Along with Skope featured artists SUPA and OnPlanetZu, GALILEE presents a new single FLF [Feels Like Friday] Turn Me Up and it's picking up steam on iTunes and other online stores as well as YouTube. GALILEE and Skope bring the three together to discuss the single FLF Turn Me Up and other upcoming projects…
Skope: How did the single come together and how would you classify the song?
GALILEE: I'd classify the track as classic hiphop with a dubstep vibe. I had this beat lying around and was getting great feedback on it so I thought I'd reach out to the hiphop community that I've written about in Skope over the last 2 years. Some of the artists I've written about I occasionally keep in touch with. OPZ and SUPA were the first ones to jump on this track and I was really happy with the results so I decided to release it.
OPZ: It's crazy how easy it is these days to make a collaboration track with artists who are spread across the country.   I've got lyrics and they need tracks.   So when Doug sent me his song, he told me what sort of feel he had in mind for it, and who else would be contributing. I put lyrics and some melody together that seemed to enhance the energy vibe of the piece, keeping in mind that it would be stitched together with hot clips from these other amazing guys as well.     I was already in the process of recording the OnPlanetZu album, so when Doug sent me the song, I just flowed with it.   It was easy because that piece had so much juice on it.   It's a great mix of Dub-step, HipHop, it's got some melody, and it's real energetic. It's also real grimey.   FLF sounds like a Friday night party song, but we made the song on a Monday, you dig?
SUPA: Galilee first contacted me. It clicked immediately. I was all in from the beginning. I'd classify it as an upbeat, positive, party song. It's got a great beat! Everybody seems to like the impact that it's making.
Skope: Lyrically, OnPlanetZu and SUPA have very different styles. What do they bring to the track?
GALILEE: I think they both bring a breath of fresh air to the mix. They're both exciting and professional with what they do and they don't sound like everyone else so I think it helps the song stand out in a crowd.
OPZ: OPZ is bringing that energetic wow style, that Busta Rhymes, 1999 hiphop feel.     We spit lyrics with an off-beat, on purpose vibe.   We mix and match vocabulary together to come up with crazy concepts and metaphors.   I think the great thing about how OPZ blends the genres is that it makes the music fresh and versatile, while being high energy and in yo face at the same time.
SUPA: People say I bring an old-school hip hop lyricism that is remindful of great emcees of the past, even as I provide a breath of fresh air for the future of this business. That's certainly what I try to do, and I think it shows through on F.L.F. Turn Me Up.
Skope: Besides FLF Turn Me Up, GALILEE and OPZ are also featured on actress/singer Darcy Donavan's new hit remix single "SupaBad UltraBad Remix" also featuring another Skope artist A. Tone da Priest. What can you tell us about the single and working with Darcy Donavan?
GALILEE: I started that remix back in 2012 and originally hiphop legend C.L. Smooth was going to do a verse, but then he ended up getting signed to Sony and wasn't able to commit to it. But, for the style and sound of the SupaBad, I really wanted someone with alot of energy that could help pump it up, and no one does that better than Zu! The guy is a black Jack Black I swear, at least when it comes to raw energy. And A. Tone da Priest brought in some verses that really helped carry the song along too.
OPZ: when I heard the track, it got us in an up-tempo dance club vibe. Darcy's lyrics and concept kind of matched up with how we perceive an OPZ dance club party mix would sound like. I come with the yummy lyrics to make everyone crazy like we do with OnPlanetZu.   I like that she has a different, sassy style than you normally would hear from pop artists and actor/musicians.     We look forward to working with her on the video for this track.
Skope: What other projects do you guys have coming up for us?
GALILEE: Right now I'm doing some remixes from some exciting new artists and trying to finish some of my original material. I have another single slated for release soon called "LockDown HandsUp feat TeeMunny and Carruthers" which is real hot.
OPZ: We are very excited to be able to announce OnPlanetZu's first full length album "Adventures of Yo Mama" is coming out 4-28-14.   We are trying to put out all kinds of cupcakes this year.   There will be singles and collaborations through our label at Skee-Lo Musik, Remixes coming out of Cleopatra Records, and a number of other collaboration singles yet to be confirmed.
SUPA: I just completed the SUPA Back2Basics Remix project. It was exciting to collaborate with some of my favorite people, including Shine, DJ Hugg, Dope Emcees, Smoov Clericuzio, K-$hellz, J Rich da Pit, F.E.E.T, Pie Man, Nakia Chassion, and you've gotta check out Tra'Mayne Williams layin' it down on "All I Got." All the beats were by the incomparable Sadik, and it was produced by the one and only Shine.
Skope: Where can fans find the track and also more about each artist involved with it?
GALILEE: If you REALLY want to support independent artists, you can download it here http://galilee.bandcamp.com/track/flf-turn-me-up-feat-onplanetzu-and-supa on my BandCamp page. Or check out Spotify, iTunes, Amazon… the usual suspects.
OPZ: You can access the track through the link below, or all released OnPlanetZu music through our website, including access to both versions of Feels Like Friday. We will also be available on all major online stores with the release of our album.   The website should link to info sites for artists that are on the track. We are also very active on Reverbnation and Facebook.   If you still have questions, shoot us a message, you know we love hearing from our fans!
SUPA: They can go to my website, http://SupaHipHop.com.
Skope: An extended version of FLF featuring A. Tone da Priest can also be found on OnPlanetZu's debut album. What can you tell us about that?
GALILEE: The song ended up being over 4 minutes long with all 3 artists on the track, so I had to break it down to 3 minutes for it to be a single. Most hiphop songs are only between 2 and 3 minutes so I tried to stay within those boundaries. The extended version is pretty awesome though, A. Tone delivers and very interesting message about the state of rap.
OPZ: This track was bangin' so hard, we didn't want to worry about time limits, or editing protocols.   We wanted to pay respect to the mix in its raw form, with all the artists as were on the original recording.
Skope: Are there any other collaborations coming up? Who are some other artists that you've worked with or plan to?
GALILEE: My track with TeeMunny and Carruthers is finished; I just have to get a release date set for it. I've also been working with another Skope featured artist Steve Ryan, who also happens to be the top selling independent artist on Amazon. We're working on some pop songs, in the Prince, Robin Thicke and Pharrell Williams sounding funk pop. It's a lot of fun, I play some guitar on it as well as programming and producing.
OPZ: The singles through our label at Skee-Lo Musik will be OPZ alone, as well as feature artists such as Skee-Lo and Redman.   There will definitely be more features with Galilee and Supa.   They are great artists to work with.     We had a few songs requested by the producers over at Cleopatra Records-those will be some hot new remixes.   You can expect to hear Trap, Dubstep, HipHop, Rap, and more.   There are some other collaborations and remix singles that are already available, including Blackburner, Dubstep Mafia, and Alien Ultra and even Killerhundwelpen over in Germany.
SUPA: My producer SHINE and I are starting to put together our next project, Breath of Fresh Air. We haven't finalized everything yet, but I can tell you that it will be everything the title implies. It will both new stuff I've written and a few remixes of several songs from Legends. There will be some exciting hip hop artists featured, including some of my heroes. We'll be announcing more about the project soon. I've appeared in shows with people like Z-ro, LA Sunshine, Paul Wall, Big Pokey, Chingo Bling, and more, and I'd love to work with any of them. As far as other artists I'd like to work with, the top of the list would be LL Cool J, Common, John Legend and Adele. They all knock me out with everything they do.
Skope: Any parting words of wisdom for upcoming artists?
GALILEE: I can't stop making music, for better or worse, it's something I look forward to when I wake up and I think about it when I go to bed. If it's not a true passion, do something else because it's hard work. Don't do it to be famous, do it because it's what you love and you feel it's something you must do. Be genuine and be yourself. Originality is the only way to stand out in such a crowded field.
OPZ: Yeah.   You're gonna get a thousand no's. it's gonna be that one yes that puts you on the map. You just gotta be the artist you are, think outside the box, cuz that's what real music today is into. U gotta let your no's be a motivation to keep going.   Create your own path. OPZ turned down about 20 labels before we found that one contract that fit us. There are a lot of snakes out there just trying to make a buck off of unsuspecting artists. You gotta play smart and not give up.
SUPA: Be true to yourself. Be authentic. Keep the faith. Don't be afraid to make a stand for what you believe. Remember that every trailblazer, especially in the music business and specifically in hip hop, has been misunderstood, knocked down, lied to, been pushed around and worse, yet they have persevered until the biz caught up with them. That's the price that has to be paid. If it were easy, anybody could do it, but it's definitely not easy, and few are willing to pay the price.
Check out the single FLF Turn Me Up featuring OnPlanetZu and SUPA.
SPOTIFY FLF TURN ME UP LINKS
http://open.spotify.com/track/3vT3XBVUL52SBmQyIP08pn
AMAZON LINK
http://www.amazon.com/F-L-F-Turn-Me-Up/dp/B00JH8KRFY
ITUNES LINK
https://itunes.apple.com/gb/album/f.l.f.-turn-me-up-single/id855068709
YOUTUBE LINK
http://youtu.be/QsUpqX4F110 [edited version]
BANDCAMP LINK
http://galilee.bandcamp.com/track/flf-turn-me-up-feat-onplanetzu-and-supa
GOOGLE PLAY LINK
https://play.google.com/store/music/album?id=Baxk657e5g4447pxtfb5x6bhfrm&tid=song-T2dkcngzahdzo3h3efx5657xdva
GALILEE Official Site: http://digdugdisaster.com
OnPlanetZu Official Site: http://onplanetzu.com
SUPA Official Site: http://supahiphop.com
Douglas Garnett – douglas.garnett@gmail.com