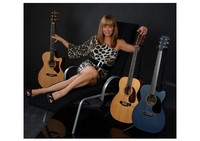 With big country sounds in all the right places, Lynne Taylor Donovan's 'Soft Place' is a warm slice of all american music to soothe the soul. Kicking off with a snappy guitar, laced with slap back delay, it sounds exactly like you'd expect and want a track in the genre to sound, with the tweed amps cranked up and the lap steel bending and twirling along in the background. Lynne Taylor Donovan's voice is a treat, too, equal parts smooth and sad, with just the right amount of gravel when it maters.
Lynne Taylor Donovan "Soft Place" Audio Video
https://www.youtube.com/watch?v=ezMNQZbF_cM
The surprise comes with the arrival of the middle eight at the 1:40 mark, making the song feel like it might already be coming in to land; "Why don't you grow up, do, and be a man / Stop crying, I'm tired of having to hold your hand." It's all a clever ruse though, and the track thankfully keeps on going, peppered with some soaring stops and sugary harmonies. With clear influences from Parton and Twain, Lynne Taylor Donovan's voice also has more modern touches similar to Sheryl Crow, and has delivered an enjoyable lil' bit of country here with 'Soft Place.
http://www.lynnetaylordonovan.com
By: Chris Marsh