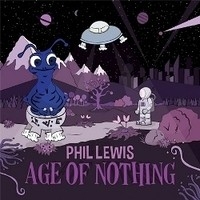 Newsflash: Phil Lewis writes catchy, well-crafted songs with lyrics that connect with the good in everyone. His latest album, Age of Nothing, shows a flair for combining these with '80s indie guitar, tribal drums and a love of the Top 40. The result? Radio-friendly songs that stay with you long after the first listen.
Musical Genera: Trippy-Ambient, Chill, Melodic-Progressive Fusion, 80's Electronica
Review: "Age of Nothing" is Lewis' latest release and the result though far from a self-indulgent ego trip, rather a moving and elegiac artistic statement from start to finish. This is not your overly predictable Ramen Noodle Ambient Artist. Instead Lewis delivers a highly original musical staple and could even be classed as a 4 genre artist: Ambient, Chill, Dub and Progressive Industrial. Lewis has way too much precision and clarity to live in the shadows of overly-predictable Ambient/Chill. Indeed this is clearly evident in songs like "Ready", "Fly Again and the title track which methodically ups the ante to a very respectable level of catchy musical expression and craftsmanship that transcends pigeonholing. The music is also commercially viable with a fresh sound and an entertaining vibe that holds the attention span of the listener perfectly. In a nutshell this music reminds me of Grinderman, Morphine and Captain Beefheart and His Magic Bullet. The short but sweet 5 song line-up comes fully loaded and appeals to many listeners with a wide variety of musical styles. In his own words: I've been a bit of a pop music maverick ever since, taking my influences from the catchiest or most moving music, and not worrying about musical boundaries. In my teenage years, I took a liking to rap and rock (I was even a breakdancer). Friends told me that I couldn't possibly like both, because they were too different. Then Run DMC and Aerosmith released 'Walk This Way' and proved me right.
Criticism: Some aspect of the production sound one dimensional, overly synthetic and at times amateurish. Overall I find this artist quite amazing with a huge amount of potential. Lewis makes a real and genuine connection with the listener.
Bottom Line: I would imagine in time we will hear more from this artist based in Wales (UK) via music synchronized in Movies and TV Productions. No doubt Phil Lewis has carved a marketable niche for himself thus far setting himself up for marketable success over the years to come via his music and production DIY know how. I would not be surprised to hear his music featured one day on the Discovery Channel. But for now I can honestly say this is one artist that clearly gives you a musical snapshot that is highly original, unique and dare I say brilliant in its delivery.
Artist URL: http://www.phillewisuk.co.uk/
E-MUSIC – http://www.emusic.com/album/phil-lewis/age-of-nothing/14606396/
Rating: 3.5/5
by Michael Campbell edited by Mindy McCall
Review Comments: therandbrand@gmail.com