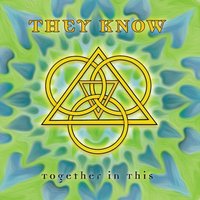 Lifelong friends Daniel Ehart and LeeRaden have put together a great lineup of musician friends and professionals for this live CD "Together In This", an tasteful and enjoyable collection of original songs that steal the heart of the 60's and keep the torch alive.
I don't come across this type of music often, so when I do, it's often hard to compare to music of today. So many generations of music, especially rock really took form in the 60's and They Know's live CD is especially special in that certain proceeds are going toward Be The Match Foundation, which works to match potential donors with those in need of life saving bone marrow/stem cell transplants.
Anyway, here's what I thought when I heard "Together In This Live"…
Like An Open Book begins has a soulful rock keyboard which carries the track, a simple number that highlights the lyrical exploits "You're like an open book and I'm a mystery" before a tasty lead guitar rounds out the track in an old school way.
Together In This has a Santana type of vibe to these ears. Very bluesy, almost Eagles-esque. Evolve [The Great Change] is announced as next with the next step of simple two step blues, I felt for a moment a Doors song coming together.
Buy: http://cdbaby.com/cd/theyknow
The intimate live setting with an audience is a great choice for the type of music these guys have chosen to take on. I See You Watching is a three chord light rocker "Some night it's gonna happen, you're gonna give your love to me" followed by a keyboard solo. These guys have definitely heard of The Doors, but also the jam bands that freeformed into 15 minute sessions.
No Twitters begins as a slowhand blues track, with a tinge of country in the chorus that'd make Jerry Garcia smile up in the clouds. City of Dreams picks up the pace ever so slightly and has a real Niel Young sound, mixed with something I can't quite put my finger on. Things get interesting when these guys harmonize vocally.
The Louvers Of Love is next, a total blues soul track, followed by Weeds Grow Wild, a super 60's progressive track that was inspired by countless supergroups of the time. "Watching weeds grow wild" as the chorus repeats itself.
This live recording, which was recorded in a live studio studio setting with no overdubs and an intimate audience that witnessed the event as it was captured, will no doubt show that these guys don't need fancy gadgets or backing tracks to create music. They're doing it like the old pros used to… before everything became corporate and official.
Inspiral Staircase closes the CD on a mellow and loose, though it does sort of remind me vaguely of Jamiroquai, the quasi funkster soul dude from the 90's. If you're into the psychedelic 60's and a little bit of jam band, They Know most definitely know how it's done right. Support a great cause and pick up this album or download.
Douglas Garnett – douglas.garnett@gmail.com