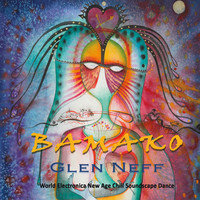 Glen Neff is a unique individual and pours his uniqueness into everything he does. He grew up in New Jersey in a predominantly musical family and now resides in New Mexico. He came by his talent honestly and learned so much from his surroundings. I had the distinct pleasure of interviewing him once and it was a conversation not soon forgotten.
His music is as fascinating as the person. He is a musician, artist, designer and builder and does each with the same lust for life. His latest single, Bamako is a collaboration nothing short of the individualism he puts into everything he does. It has a worldly sound that takes you on a magnificent journey through space and time.
Listen – https://soundcloud.com/glenneff/bamako-www-glenneff-com
It starts off with an array of percussions that start the pulse of the sound. It is backed by incredible vocalizations that sets a mesmerizing mood. The emotions build with every melodic and haunting tone. The song instrumentally tells a story without any written words. The beauty is overwhelming as it consumes your entire being.
Glenn Neff puts forward yet another polished gem with his latest single, Bamako. He never ceases to amaze me both as a composer and person. He is a delight in everything he does and it comes across in every project he partakes. Listen and be amazed. https://www.youtube.com/watch?v=RGy2udhaR74
I rate this 5 out 5
Rebecca Hosking – hoskingrebecca@gmail.com