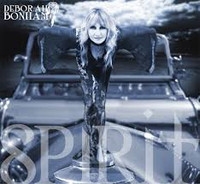 To anyone who doesn't know, John Bonham, one of the mightiest rock n' roll titans to ever grace the throne of a drumkit, has a little sister, Deborah. Although Deborah was a very young girl when her older brother was in his prime with Led Zeppelin, by watching his performances and being around the atmosphere of possibly the greatest musical experience ever created by man, she became passionately inspired to delve into perusing music herself. After a series of early recordings completed at Robert Plant's house, she rose to a considerable amount of success as a young adult. Her album "For You and the Moon" was a considerable success in Europe and sold very well. Deborah Bonham has toured with The Jason Bonham Band, and has opened up for massive acts such as Slash and Terry Reid. She has performed with legendary artists such as Paul Rogers (Free, Bad Company), Dan McCafferty (Nazareth), Ozzy Osbourne, and Lonnie Donegan. This album "Spirit" is her fourth full length release and was available for purchase March 11th via download and will be available on hard CD copies April 28th.
You may be thinking that a large part of Deborah's musical successes and achievements are attributed to the fact that she is the little sister of John Bonham. Perhaps if she had a different last name she wouldn't have worked with Paul Rogers and Ozzy Osbourne, but let it be said here and now that this woman is decidedly not lacking in talent or musical ability whatsoever. Regardless of her name, Deborah Bonham has one of the most beautiful, soulful, and powerful voices you will ever hear, it is one of those voices that makes you want to press the headphones a little tighter on your ears. She has amazing control, and can range from a very warm, full timbre, to a scorching bluesy howl. Deborah is a fantastic blues singer. Her voice at times, particularly in its warmer qualities, is quite reminiscent of Stevie Nicks; yet her powerful bluesy crescendo has a distinct edge that is comparable to the leathery wails of Janis Joplin. The band on this album also performs very well. The instrumentation is quite raw, not in the sense that the recording quality is low, but in the sense that the sound is very true to the instruments, no flashy effects, no overproduction, etc. The music is also intelligently sparing, and provides an excellent bluesy backdrop of raw power in which Deborah's voice can shine. Knowing when and when not to play is probably one of the key elements that makes for excellent blues rock. All in all, Deborah Bonham's album "Spirit" reminds me a lot of Fleetwood Mac and Big Brother and the Holding Company. These bands both have fantastic blues musicians creating refined instrumentation that fits perfectly with a truly talented and powerful female lead singer; such is the case with Deborah Bonham and her band. The song that struck me the most on this album was the seventh track entitled "I Need Love". At heart, the song is a well executed, slow burn six-eight blues tune; but the lyrics and Deborah Bonham's voice really turn this track into something beautiful. The sincerity and passion with which this track is sung is truly brilliant. The control expressed through soft-loud dynamics and blistering vocal runs create a very moving listening experience. The song peaks perfectly with a roaring guitar solo at 2:42 that tears right through the mix and brings everything home. "I Need Love", is an excellent example of the quality material on "Spirit".
What complaints can be said of this album? The short answer is not very much. Considering the type of music being played, the execution of this album was nearly flawless. Every take sounds pretty close to prefect, and the overall richness of "Spirit" is linear throughout its entirety. If this is the case, then why is it that Debora's albums aren't going platinum? There are countless reasons for this, most of which are trivial, but one of the main factors is commercial marketability. Of course, based on her past collaborations and record sales, she has done very well. Again, I'm sure it doesn't hurt to be in the Bonham family. However, as sad as it may be, (and it is very, very sad indeed) raw blues based rock n' roll just isn't at the forefront of the industry like it was back in the early seventies. The music she plays isn't going to be appreciated by the large majority of today's young people, and she will probably continue to have moderate to modest success with a relatively particular audience. However, it is obvious to point out that none of this really matters in the first place. Debora Bonham is very talented and made a fantastic album that can be celebrated by those who love everything that music of this purity has to offer.
"Spirit" is truly a wonderful creation. The lyrics are expressive, and have great depth of emotion. The instrumentation is raw power; used carefully with professionalism, passion, and enveloping precision. Finally, the artist herself, Deborah Bonham, gives an exuberant, fiery, and overall incredibly moving performance that proves what a profound talent she is.
Website: http://www.deborahbonham.com/
Genre: Blues Rock
Sounds Like: Fleetwood Mac, Big Brother and the Holding Company
Final Score : 5/5 Stars
By Owen Matheson, Approved by Janne Zawa
Review comments: jannezawa@gmail.com