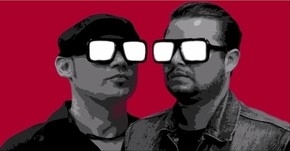 Hello, Too Bad here, we are currently looking for some extra support with our band. Specifically in the Manager/Booking agent type role. We are eager to get higher profile gigs opening for more well known bands, and local festivals. We also want do college tours next fall semester. We are ready to work.
Too Bad "E-HO" MP3:
http://k007.kiwi6.com/hotlink/r3zz7iqfan/E-HO_mp3.mp3
Dance Punk is genre that is sweeping the indie rock scene. Bands like The Faint, Moving Units & New Young Pony Club are some of the bands current re-birth of this sound, that originated from the 80's from the likes of New Order & Billy Idol. Now there is a new band who is sweeping the Los Angeles scene this band is TOO BAD. From Venice, Ca these guys are bringing the sound with attitude and velocity. Indie Music Digest recently referred to them as "A combination of NIN and The Flock of Seagulls (on steroids)" Vents Magazine review of their Ep "Permission to Land" had this to say, "beware you cannot resist the urge to dance"! One listen to their music and you will understand that their songs are laying in the belly of the beast ready to explode in your local music scene.
Website/Social Media Linx:
http://www.toobadmusic.com
http://www.facebook.com/toobadmusic
Contact Info: gerry@toobadmusic.com