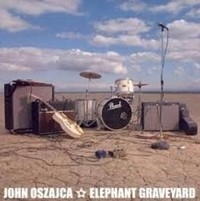 Elephant Graveyard, the new album from John Oszajca is a fun ride! The album opens with the upbeat rock tune "The Day I Died" which is a fun meditation on a relatively depressing topic. The juxtaposition of the peppy music and the lyrical content is brilliant and makes for a toe-tapping good time. Things slow down a bit for track two, "Baby Bye Bye," which is a croony love song with a strong rhythm and catchy guitar melody. Track three, "Where's Bob Dylan When You Need Him" is reminiscent of a Tom Petty storytelling song, made all the more enjoyable by Oszajca's smooth vocal style.
Official URL: http://www.johnoszajca.com/
Track four, "No Turning Back," is a haunting little tune, filtered through Oszajca's staccato guitar style in a fun way. Track five, "Damn That Woman," picks up the pace with a fun rockabilly sound. Oszajca's voice here shows a broad range, stylistically speaking, which really sets the song apart from the previous tracks. Track six, "Blues for Susan," slides into the grungier side of rockabilly and is utterly delightful for it! The beat compels the listener to move.
"Sinkin In," the seventh track on Elephant Graveyard, shifts to a somber and slow tone and is a truly beautiful ballad. Track eight, "Big Time," brings back the power while keeping the pace slow and driving. It's pitch-perfect rockabilly, with a very cool risk that pays off being taken in the vocal harmonies. Track nine, "Ostrich Blues," is a solid bluesy riff with a heavily distorted guitar and potent bassy vocals. It's the kind of song that makes you want to grease back your pompadour and hit the drive-in with your best girl to watch a splatterfest. It's a beautiful thing. The album's final track, "Angalyne," is a slow, soulful tribute to a beautiful, dangerous woman. It's a perfect final note to this collection of songs and beautiful in execution and simplicity.
Overall, Elephant Graveyard is an amazing album. Every song hits on all cylinders and every one of the many risks taken throughout the album pay off. Musically the album is masterfully executed and skillfully produced, lyrically it is compelling and vocally it is captivating. I give Elephant Graveyard a firm nine out of ten stars and highly recommend you pick it up as soon as humanly possible!
Rating: 5/5 Stars
Purchase Link: https://itunes.apple.com/us/artist/john-oszajca/id106076
Review Comments: therandbrand@gmail.com
Review by Travis Legge. Edited and Approved by Michael Rand