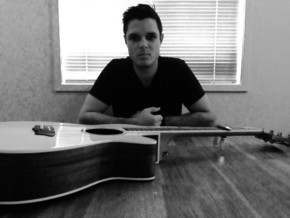 The genre Singer/Songwriter is one of those terms that gets thrown around, usually when writers aren't quite sure how to classify an artist. But once in a while it rings true, as in Beyond Coda, whose combination of folk guitar, rock vocals and various background instrumentation create atmospheric and compelling and emotive songs. At the moment Beyond Coda is merely a demo, with boundless possibilities. But in March, they'll be heading out to Los Angeles to record with multiplatinum music producer Jeff Blue.
Skope: You have a song posted on Music XRay titled "Fallen", can you tell us what it's about?
BC: Fallen was inspired by a documentary I saw called "Touching the Void". It is about a mountain climber who gets seriously injured whilst climbing before falling down a precipice! Amazingly he survived the fall and despite seemingly insurmountable odds, he made it back to his base camp! In the song I put myself in his position and tried to imagine what was going through his mind, what compelled him to keep fighting for his life even when his situation seemed hopeless.
Skope: How would you describe your sound to those of us who haven't heard you yet?
BC: I have been experimenting with a few different sounds lately but I suppose the sound I enjoy the most is a very dramatic form of indie folk rock. I love writing songs that build to a dramatic climax. They don't always come out that way but that's the template I try to work around.
Skope: You're recording in March with legendary producer Jeff Blue. How did that come about and what will you be doing?
BC: I have my music up on music x-ray and there was an opportunity to send Jeff some music as he was looking for new artists to work with. Fortunately he liked what I sent him and he arranged for me to go to Los Angeles in March to do some writing and recording together.
Skope: Do you have an album coming out of this session or are you focusing on singles?
BC: We are just focusing on three songs in Los Angeles. When I come back to Australia though, I am hoping to get into the studio within 6 months to record a debut EP.
Skope: Do you perform live anywhere and if so, are there any particular venues you like to play?
BC: I will play at any venue that will let me haha I was starting to perform a bit around Sydney until I developed granulomas, so I have had to rest my voice for a few months. It is better now and after I get back from Los Angeles I will definatly focus on performing again!              
Skope: How long have you been writing songs and what inspired you to become a songwriter?
BC: I have been writing music for about 9 years now, but I have only taken it seriously in the last year or so. To be honest I don't think I was ever "inspired" to be a song writer, writing music was just something I enjoyed doing, it was an outlet for me. I suppose what inspired me to really start to take it seriously was seeing people connecting with some of my songs. The greatest thrill for me as a songwriter is when I see someone singing along to my music or having them tell me they can relate to it!
Skope: Some people consider themselves more of a performer, while others feel that they are artists… what category do you see yourself in?
BC: I really enjoy both aspects! The writing and recording process for me is a personal and almost therapeutic process, and performing live has the excitement of being able to share that music with others.  
Skope: Who are some of your musical influences growing up?
BC: There are a lot of bands and songwriters that have had a big influence on me. One musician whose work I have loved throughout the entirety of his career and who in my opinion is one of the best songwriters in the world, is Neil Finn. You could draw endless possibilities as to what the meaning of his songs might be, leaving them open to interpretation and letting people mould them around their own feelings and experiences. Other writers who have had a massive influence on me are John Nolan from Straylight Run, Andrew Jordan from Matchbook Romance and the late Tony Sly from No Use For a Name. Also bands like Jimmy Eat World, Pink Floyd and Dire Straits have always been bands that I have drawn a lot of inspiration from, along with many others.
Skope: Who are some of your non-musical influences and how did they affect your song writing?
BC: The people that have had the biggest influence on me are the people that are closest to me and that have stuck by me when other people didn't. Everyone goes through difficult times in their lives, times when we can even lose ourselves amidst the repercussions of our actions. But from these experiences our truest friends are revealed. For me they have been my Mum and Dad, my family and close friends. As to how they have affected my music…I suppose because of people like them there is always hope and a positive inflection in my songs to a certain degree, even if they were written about painful experiences in my life.  
Skope: Where can people find your music and learn more about you?
BC: Like I mentioned, the next 6 months is going to see the release of 3 singles and an EP From Beyond Coda but until then you can find my music at purevolume.com/beyondcoda or at triplejunearthed.com/beyond coda
For now you can check out this budding artist at http://www.purevolume.com/beyondcoda
Douglas Garnett – douglas.garnett@gmail.com