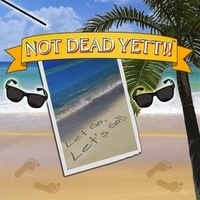 Pop/Soul/dance band "Not Dead Yett" formed by renowned Grammy winning Producer Don MIzell just releaed their latest CD entitled   "Let Go, and Let's Go' in 2014. This debut release of a collection of motivational and personal songs that aim to help change the world with positive upbeat lyrics and conscious message.   By combining synths, funky bass grooves and soulful singing, Not Dead Yett!! is an exciting new release   filled with a colorful array of   songs for a musical movement of a debut album and lead single, "Let Go, Let's Go".
Primary URL: http://www.notdeadyett.com/
At first none of this made any sense to me as I listened armed with an open mind and an open perspective and an open beer. This music captures the essence of boldly honest sarcasm so perfectly or in the case of Not Dead Yett deliver quite effortlessly. With a list of artistic and professional achievements as long as my arm Producer Don MIzell a/k/a (Dr. John DJ) along with sidekick partner (Hi-Hat Carter) are not really new at this. In fact it's quite clear to me that this Florida based duo   are not only experienced, they also know exactly what they're doing with this release. They make musical-magic-with-a-message in this upbeat, dance party-with-passion-and-purpose-at-da-beach video. Smartly directed by Miami's own award-winning director: Tony C. Lesesne.
In music, breaking rules and challenging conventional wisdom are often deliberate efforts to establish a marketing niche, but for Dr. John DJ and Hi-Hat Carter they feel more like natural state of mind and being. The duo's Lead single "Let Go, Let's Go" set for release February 3, is emblematic of the inspired vision behind the album, "with a pop dance ditty geared to blending 1980s synth pop and some of today's chart topping dance music stars,"   Mizell explains. The overall theme of Not Dead Yett!! is to never forget that set backs in life should not be a reason for not letting go and living your life to the fullest. The CD at times casting you adrift on a peaceful sea of emotion, other times awry in happy thoughts, sometimes displaying a dry sense of humor. Whatever the case this 12 track collection is a finely tuned balancing act that speaks volumes about these 2. Along the patch one will find funny songwriting and evocative emotions. "Show U" and Gonna' Be Alright" Kick thing off with thick electronic   rhythms, reggae-type grooves and infectious vocal flair. These 2 are clearly swimming in the deepest end of the pool with acts such as Pulp, Elastica, Gorillaz and Suede. Not Dead Yett is kind of like a Electronic Pop curve ball and one might also take note these two have hit the mark with respect to typical   radio friendly pop rock pacing and zany Electronic dance Pop. The end result 13 new tracks that more closely resemble pop songs in terms of length and musical form, but this is not to say the music is conventional. All the while keeping it mild, real, flowing and simple. Another honorable mention: The title track gently rolls out through a roughly 4 minutes intro piece of music ranging from alt rock, alternative rock, sonic chill and even course classic pop styles. Others like "Go Out Tonight" and heartfelt/melodic "U can't Br Proud" are rocking full tilt pieces. "So Glad" and "Weekend Getaway" are more memorable ones for me. The vocals really seal the deal for me, especially how they move between all the aforementioned genre's. While some albums rely on over the top theatrics this one is more laid back in stature — placing an emphasis on vocal feel , mojo and melody. Not Dead Yett are not trying hard to hard, rather these 2 infuse light hearted and simplistic themes about love and life which made more sense to me the more intoxicated I became. The rhythms and slow burning vocals coupled with the mind blowing lyrics will cause you to think and comprehend life itself from their twisted and funny perspective. It all makes perfect sense to me now.
Joshua Perryman edited by Joshua Beach
SOUNDCLOUD: http://soundcloud.com/notdeadyett/let-go-lets-go
Review comments: joshuabeach9@gmail.com
Rating: 10/10