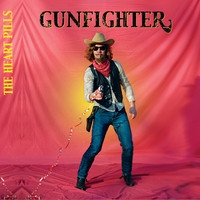 Opening with 'Concrete', it's immediately clear that The Heart Pills are trying something different. By combining electronics and organs with wiry guitars, a unique sound is created. Vocally, the band is confident and interesting, with some great snappy female backing vocals. The track is a great introduction to the album, thematically carrying the cowboy concept by leaning towards americana influences.
The concept continues on 'Cowboy', with hilarious lyrics; "She calls herself a cowboy / She's in love with racists / She's got a tramp stamp of a map of a confederacy." The first section of the track pedals along for quite a while before the track changes shape, but a really satisfying chorus never really arrives, which is a shame because the song might then really come into its own.
Listen: http://theheartpills.bandcamp.com/
Moving on, 'Mississippi Johnny' is laced with hints of Calexico, classic americana, while 'Fiddler Diddler' is a hootenanny of a rodeo party track with a wonderfully lo-fi organ part like something off an old Grandaddy record. 'Cabaret Lady' is somewhat moodier, with slap delay-coated vocals and a spooky ghost-train synth, while 'Mermaid Song' heads in a dreamier direction with lap steels and a rich wash of reverb.
Title track 'Gunfighter' starts gently with a female vocal lead, building with classic snare rolls, whistles, and more wailing lap steel. It's an unassuming yet powerful song with a lot of weight behind it.
Closing the album with 'Western Song', there's a warm end-of-day vibe to things. The cymbals echo out, the drums thud, the organ chugs. The track builds towards a strong climax to the album, closing with some beautiful female vocals and a mariachi trumpet, ending the album arguably with tonal perfection.
http://www.reverbnation.com/theheartpills
By: Chris