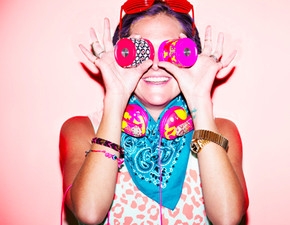 chicBuds is at it again with a fun and innovative spin on iPod Accessories! Check out the latest celebrity favorite: chicBuds Porta Party Bluetooth Speaker. As we look forward to the onset of Spring, it's time to start thinking about rocking out to your favorite songs in the sunshine or wherever you may find yourself!
CH!CBUDS PORTA/PARTY Bluetooth Wireless Speaker is perfect for any stylish woman on the go who is ready to ROCK OUT with her friends and turn up the volume of her life! The wireless speaker is small enough to throw into your purse, suitcase, beach or pool bag, take on a picnic, or even as gift in someone special's Easter basket, yet the sound is BIG enough to keep you rocking all day long!
Keep the party going for up to 10 hours of crisp and clear music! It also doubles as a speaker phone! With fun, runway inspired patterns, there is one to match any personality or outfit. Our in-house designers have an amazing eye for upcoming fashion trends and each PORTA/PARTY pattern is inspired by the crème de la crème of designer collections.
Be the life of any situation with the Porta Party Bluetooth Wireless Speaker. This pretty printed baby pumps out major sound for it's sweet little size! You'll be amazed by the crispness and clarity of booming sound that will be turning all the heads in your direction. This portable speaker is decked out in our runway-inspired print and has up to 10 hours of play time. Porta Party also features seamless talking on it's speaker phone feature so you don't miss a call while you are rocking out. Small enough to fit in the palm of your hand, but loud enough to get the party started.
With celebrity fans such as DeAnna Pappas Stagliano of The Bachelor and The Bachelorette and Candace Cameron Bure of the legendary show, Full House, the CH!CBUDS PORTA/PARTY Bluetooth Wireless Speaker is sure to impress!
CH!CBUDS PORTA PARTY Bluetooth Speakers retail for just $49.99 – http://chicbuds.com/all-products/speakers.html