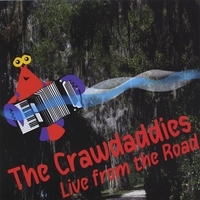 The Crawdaddies are going to claw their way to the top by offering up one incredible groove!   The catchy, Crawdaddy sound will head straight to your bones and make you shake, rattle & roll!   Prepare yourself for a style of music that merges together elements of: Rock, Blues, Cajun, Zydeco, Ska, Roots, Jazz and even a little soul.  
The record starts out with a funky, soulful & rockin' vibe with a jazzy touch added in for good measure on "Cuttin' the Body Loose".   You'll get a real bluesy side on "Love That Natty Boh" and get ready to move it and let loose on "Habit Forming".   I picked up on some nice 'n' tight, core harmonies throughout the 10-song set like on "Carolina Baby" for example.   There's a party goin' on and it's called "Shake 'N Bake" and then get in tune with their witty sense of humor on "Jive Time Farmer".   The closing track, "The Difference", has the piano and guitar colliding to create one unstoppable force!  
The Crawdaddies' "Love That Natty Boh"
http://www.youtube.com/watch?v=e6-KQBpduGs
The band may be based in Baltimore but their sound incorporates much of that swampy, southern mojo that New Orleans is so famous for.   But with adding other elements in like: Ska & Rock makes for one entertaining listen.   The primary members are: Kraig Greff on accordion & piano, Chris Huntington on vocals & electric guitar & Dan Hones on bass.   This is the 4th release for The Crawdaddies and 'Live From the Road' was recorded at the following locations: Showboat Casino in Atlantic City, NJ, Sellersville Theater in Sellersville, PA, St. Olaf College in Northfield, MN & The Avenue Summer Concerts in Baltimore, MD.   Together since 1995, The Crawdaddies have received major recognition and many accolades along the way.   They have had the pleasure of sharing the stage with some big-time acts such as: Etta James, Ivan Neville's Dumpstaphunk, Trombone Shorty, Dr. John, Charlie Daniels, Last Train Home, Buddy Guy, The Old 97s, The Radiators, Jimmy Cliff, Carbon Leaf, CJ Chenier, John Eddie, Joan Jett, The Spinners, Kid Creole and the Coconuts, Terrance Simien, G. E. Smith, Marshall Crenshaw, The Young Dubliners, Buckwheat Zydeco, Reel Big Fish and the Neville Brothers.   Not to mention Kraig Greff is an Emmy Award Winner and he has toured with Della Reese, Barry White, Joe Williams and Diana Ross.   And Chris Huntington started Head-On Entertainment, Inc. back in 1997 with a ton of talented acts currently on the label.   Together as a band, The Crawdaddies are a force to be reckoned with in the music world.
The group is currently working on its 5th full-length recording to be released this year!   Showing no signs of slowing down, The Crawdaddies are bringin' their flavorful brand of music to people everywhere!   'Live From the Road' displays such raw energy & liveliness, which proves why these guys will be around for quite a while.   And with a sweet groove like The Crawdaddies, you can't lose!
4.5/5 Skopes
http://www.thecrawdaddies.com
http://www.cdbaby.com/cd/crawdaddies
http://www.headonentertainment.com
By Jimmy Rae (jrae2@att.net)