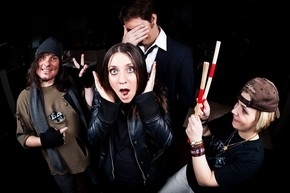 Hello there to the people of this world. Before we begin I must send prayers and thoughts to the Malaysia Airlines Flight 370. When so many people perish in that manner it is just heartbreaking for all mankind. In music news today, AMP (Artists, Managers, Performers), the recently formed alliance between the Musicians' Union, the Music Managers' Forum and the Featured Artists Coalition, is calling for streaming royalties to be split equally between the artist and the label in a submission to the EU consultation on copyright. AMP argues that streaming is not a sale in the traditional sense and does not involve any of the associated costs for the label. On this issue I will have to go with whoever has a financial interest in the music should be paid. It was also announced that AEG Live and Transom Capital Group announced that it will merge their entertainment licensing and merchandising businesses, BandMerch and Cinder Block, into a standalone entity creating the largest, full-service independent entertainment merchandising company in the United States. I am rather neutral with all this as thanks to Pay Pal, social media and the Internet all bands can still sell merch as they wish. Now lets get to my guests today coming from Ottawa, Canada is The Fiona Nokes Band. I caught wind of the group after hearing "Fake" on Skope Radio and they also have a 6 song EP out now 'Staring At The Ceiling.' These 4 are fun, talented, and make catchy music. Join me today as Fiona speaks on starting the band, talking to me while sick in bed, live music in Ottawa, and so much more!
Stoli: Where are we talking from today and are you ready for this winter to be over?
Dearest Stoli.   You are talking to me from my bed today.   I am at home sick surrounded by a bed of used kleenex and my 3 loving cats.   I am pretty sure I am ready for this winter to be over.
Stoli: As I write this the US will play Canada in Olympics hockey for women and men. Being that you are Canadian does this game matter to you?
I'm all about the Curling actually. http://www.liveleak.com/view?i=777_1392789840
Stoli: Growing up how much did music play in your life and do your friends/family support your musical ambitions?
A huge part – my parents put me in piano lessons at a young age.   I grew up with Much Music being my favourite channel.   Ever since I can remember I have always been coming up with tunes in my head.  
My family has been incredibly supportive of my passions.   I am grateful for having them put me in piano and buying me my first guitar.   My friends have been incredibly supportive with the music   – coming to our shows/cheering us on.   There's been a lot of love.
Stoli: At what point did you realize that music was more than just a hobby and it was something you wanted as a career?
The point at which I knew I wanted to pursue the arts in general/performing was while acting in Peter Pan in my graduating year in high school.   The feeling I got from being on stage was such an amazing rush.   I knew that at the point I didn't want to "grow up" as they say and leave my dreams/passions locked away.
Regarding music, while in my early years at University, I contacted a friend from high school who I knew was a great guitarist (my former guitarist Tim Trant) and asked him if he'd be interested in working on some songs I had come up with on guitar.   From there the rest is history.
"Breathe in the Fear"
http://www.youtube.com/watch?v=-_wddLJO34M
Stoli: Obviously this is your band and it is named after you. Offer us insight into how you found 3 other musicians that shared your vision and wanted to be involved?
Cliff was my guitar teacher at the time.   My former guitarist was moving and so I was looking for a new guitarist. Cliff is an incredible guitarist with a passion for all sorts of music – he liked my music as he said it was different and wanted to try something new. I met the equally talented Danae through Cliff.   She also dug the tunes and with Ben we found him on the street actually.   He's just here for the ride. Actually we met Ben online. He liked the genre/tunes and from there we all just gelled really well together – as friends and as a band.
Stoli: It can be very hard to find good people. Did you have to cut people prior and what commitment do you expect from your bandmates?
I think the biggest thing in any form of relationship is communication.     It is pretty easy to tell from the start if someone is interested or not and if there is an issue get it out there before it becomes a bigger issue.   My band has been incredibly committed to this project and even though they are also involved in other musical projects they are able to manage it all very well.   We are all on the same level in this band with our goals and ambitions and the direction we would like to head.
Stoli: Your new EP 'Staring at the Ceiling is out now. How long were you working on that album and where can readers listen & buy?
For Staring at the Ceiling were in the studio maybe for a full 5 days? We were also very lucky to be working with the amazing Dean Hadjichristou at Addictive Sound Studios who recorded, mixed and mastered the CD.   Dean is very efficient and speedy with the recording process.   The songwriting process for us begins with me coming up with something on guitar, from there I put lyrics to it, bring it to the band who build on that/make the songs come to life and then from there we rehearse, rehearse, rehearse.
You can find all the songs on our website: www.fionanoakes.com
The album download is also available through iTunes:
https://itunes.apple.com/ca/album/staring-at-the-ceiling-ep/id669079795
If you'd like a physical copy of the CD holler at us and we can send you one through snail mail or in person depending where you are!
Stoli: I love the video and song "Breathe In the Fear." What does that song mean to you and how does the video represent your vision for the song?
Thank you very much Stoli.   The song is a powerful song to perform.   It definitely invokes a state of panic and fear from within and it's open-ended enough that people can interpret it on all sorts of levels.   Some people have interpreted it as an environmental song that talks about the end of the world, others as internal struggle.   The song to me is about internal struggle and not being able to let go. I've always had a fascination with horror even though I still check under my bed for monsters every night. I approached the lovely director, cinematographer, editor Derek Price (Say Ten Productions) with the song, telling him I wanted to do a video on the scarier side and he really brought that to life.   It was a bloody great time on set.
Stoli: The EP has 6 songs. How many songs did you have to choose from and how did you decide on those 6 songs?
Bitter State was actually re-recorded.   We had been wanting to re-record an electric full band version of the band for a while, so figured why not put it on the new cd.
The other songs were the newer songs I had written at the time/were fresh to the band, so that was more new material to record that had not been recorded yet.
Glow that was the only song that was not recorded at Addictive Sound Studios.   We had actually recorded it a few months before with my friend and sound master extraordinaire Jesse Newell.
Stoli: When we visit you in Ottawa, Canada where can we go to hear live music & enjoy cold beer?
So many awesome joints in town to choose from. Zaphod's, Maverick's, Cafe Dekcuf, Brass Monkey, Babylon, Darcy McGee's, Ritual, my balcony.
Stoli: Do you feel that Justin Bieber's behavior is giving off a bad vibe for other Canadian musicians?
One person does not reflect the country.   That is only one Canadian musician. There are so many talented Canadians making their way to the world stage that the good outweighs the Bieber.   Sorry Justin.
Stoli: What is coming up for Fiona Noakes Band and where you @ online?
We will be heading into the studio with Dean in April to record a new CD.   This summer we are going to be doing more out of town shows.   My Apology music video directed/shot/edited by the incredible Deniz Berkin (Awake at Dawn Productions) is set for release in May.     You can find us online through various social media sites:
website: www.fionanoakes.com
youtube channel: http://www.youtube.com/channel/UC4JQhKaY4KtVMLNKkGIQ13A
twitter: https://twitter.com/FionaNoakes
reverbnation: http://www.reverbnation.com/fionanoakes