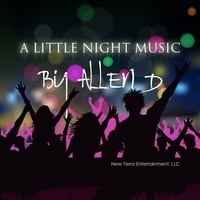 If you're in the mood for something a little different, then you'll definitely want to check out 'A Little Night Music'.   Allen D is the artist and he is responsible for playing, mixing & recording all four tracks on his debut EP.   Blending together electronic dance music and classic compositions from the Great American Songbook is what you get on 'A Little Night Music'.  
His breakout single from 2013 is featured on this disc and it's based around a Cole Porter original titled "In The Still of the Night".   The electronic grooves add a new-age twist to a classic number where you can picture some golden oldies gettin' down at this year's Ball!   The second featured single from this year is called "You and The Night and The Music" with music by Arthur Schwartz & lyrics by Howard Dietz.   Allen D is giving you sophisticated music that you can move to!   Allen heads back to Cole Porter once again with track two, "So in Love".   This song has a hip 'n' cool vibe with a percussive beat that is absolutely contagious.   The third installment on 'A Little Night Music' is "No One Sleeps" and you really get that feeling as it is one constant push of sound from beginning to end!   The original composition was titled "Nessun Dorma" from the opera Turandot written by Giacomo Puccini.   Allen D's version is giving new life to "No One Sleeps" where you will be up and wide awake!
Buy: http://www.cdbaby.com/cd/allend6  
Allen D is no stranger to the music game as he started writing songs and producing right out of college in 1957.   He even won a BMI Country Music Award in 1958 and then he would suddenly become a film composer.   Taking a sharp turn away from music in 1986, Allen D became a researcher in science & medicine.   And now he's back with 'A Little Night Music' for your listening pleasure!
The new project is wildly inventive as the EP delivers a solid dose of electronic dance tunes for the 21st Century.   Allen D had a vision in mind to pay homage to the accomplished composers/songwriters before him by modernizing original classics. Mission accomplished for Allen D and in the words of the great Don Henley "All She Wants to Do is Dance" to 'A Little Night Music'.  
http://www.cdbaby.com/cd/allend6
http://www.newterranterprises.com
4/5 Skopes
By Jimmy Rae (jrae2@att.net)