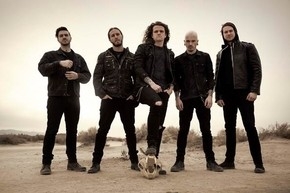 MISS MAY I's blistering new offering, Rise Of The Lion, is set to hit stores in North America on April 29, 2014 via Rise Records (April 28 in the UK, April 25 in Australia). This is MISS MAY I's fourth album and the first to be produced by the legendary Terry Date (Pantera, Deftones, White Zombie, Bring Me The Horizon). The countless fan letters the band has received over the years are the inspiration for the tracks on Rise Of The Lion, and each track is written from the perspective of those fans or responses to them.
http://www.youtube.com/watch?v=5_R5jTAnDn8
The band slams out of the gate with a double dose of metal, offering up their brand new single 'Gone' along with its accompanying music video via the official Rise Of The Lion launch site, www.MMIRiseOfTheLion.com. Take a listen now and while visiting the site, check out the band's three studio updates, as well as tour date information. Beginning today at the site, you can pre-order the album in digital, physical CD, and vinyl versions, as well as special pre-order packages including exclusive Rise Of The Lion shirts, necklaces, posters, and more!