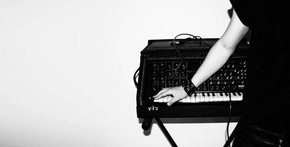 Cute Heels is the solo project of Bogotá born, experimental producer Victor Lenis.
Since the early 2000's Lenis has been working on a myriad of electronic projects, including the management of the labels Black Leather Records and Romance Moderne, in his current home of Brussels. Drawing on the influences of the radical punk scene that surrounded him growing up in Columbia while nurturing his passion for synthesizers and drum machines, Lenis developed the broody, gloomy brand of electro-techno that is Cute Heels.
Deemed by Juan Atkins as "the new blood and spirit for the next step in techno music" Cute Heels has released various digital only releases over the years, as well as his first vinyl release, an EP on Gooiland Elektro. This April, Cute Heels will release his debut album, Spiritual, on San Francisco label Dark Entries.