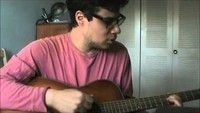 This is such a complex, amazing and dramatic EP what else can I say in the end? February EP by Virginia based Matthew Mirliani is both simplistic, amazing and dramatic. It's also extremely suspenseful and somewhat melancholy and sad. It has a very quirky-dark quality to it as well. The intro track "Versailles Diamonds" gives you the impression as if you were in some tragic love scene. The really dark, yet emotional charged synth melody leaves you breathless. The music reminiscent of acts such as Julianna Barwick, Ben Frost and Oneohthrix. Mirliani has really strong tonality foundation coupled with unusual rhythms, hypnotic pacing and spaced out goodness. The vocals and lyrics are somehow very, very interesting. If these tracks were more refined I could defiantly hear them on the radio. Without a doubt, it's impossible to deny the songwriting superiority of a guy like Mirliani.   He's a bit epic, quirky and you get this feeling as if you are in a funny yet strange musical nightmare. The keyboards, vocals and melody lines just help push the songs forward, and the vibe, if you pay attention carefully, has a really odd, mysterious, X-File sort of vibe. As the EP evolves it showcases some dramatic combinations or electonica overtones and pop on the 2 tracks featured "Versailles Diamonds" and "L.A. Lights." The drum/synth/vocal combos have an important role on all pieces.   On many these tracks as a writer Mirliani is clearly in charge of giving the mood assigning to each song. Both tracks a bit polarizing to each other. The addition of the ambient tidbits every now and then gives many song a jazzy yet ambient/eletronica touch.
My favorite track is by far "Versailles Diamonds."
In conclusion, here's an EP I've been dying to get my hands on for a while. I was just unable to stumble across him until today. It's also very subliminal, and a grand concept waiting to happen and sure to get many peoples attention — because it's very real and honest. From the production level, to the musicianship involved it's a bit lacking. From the writing and artistic perspective it doesn't get any better. In this aspect he delivers in grand fashion. Mirliani does a good job delivering rhymes and catchy vocal melodies coupled with heartfelt subjects. If he added drums, guitar, piano, harmonies, better beats and more solos, longer songs he would have a winner! Let's also give credit to the budding genius behind all this shall we? With the advent of Mirliani's superlative attempt at crafting his own signature sound via his trademark music everything here works terrifically well. It will keep you in a state of wonder from start to finish.
Rating 6/10 Stars
SOUNDCLIUD Link: http://soundcloud.com/matthewmirliani/sets/the-february-ep
Written by Christopher Warren. Edited by Heather Savage
Review comments: heathersavage5@gmail.com