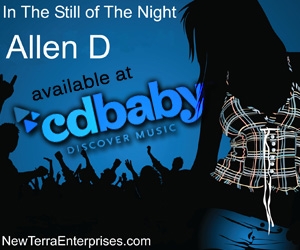 Allen D is an award winning film composer who also happens to create dance music and more. We had the opportunity to interview Allen and find out a little more about his new electrohouse single "In The Still Of The Night".
Skope: You have a new single "In The Still Of The Night" which is a modern remake of the Cole Porter classic. How did that come about?
Allen D: Inspired by Diana Krall, I wanted to do some house versions of "standards" from the American Songbook. "In The Still of The Night" was the most obvious choice because changing the meter let me do this ballad as up-tempo electronic music.  
Skope: Are you a DJ?
Allen: No
"Still of The Night" Video Clip
http://www.youtube.com/watch?v=L3qSUpD1Ajo
Skope: What types of instruments do you play?
Allen: I don't play any instrument very well despite years of piano lessons. But as a film composer I have to be able to write for all of the instruments.
Skope: I see on CD Baby that you also have a traditional Christmas single "Christmas Song" as well as the orchestral jazz track "Barak On Brass". So is it safe to say that you are a composer? Do you sing as well?
Allen: Yes, I'm a film composer. I don't sing. Not even in the shower.
Skope: Back to "In The Still Of The Night", you mix hiphop and dance. Do you listen to electrohouse or any dance music in particular?
Allen: I listen to all kinds of music.
Skope: You obviously have alot of different types of influences and songwriting capabilities, who would you say has been your biggest influence as a composer?
Allen: Nelson Riddle was my mentor. Before Riddle, big bands all played off the beat thanks to Bix Biderbeck, et al. Then Riddle put everything back on the beat, which is just what Frank Sinatra needed to revive his career.
Skope: Who are some artists that you identify with and why?
Allen: Betty White. 'Cause she ain't that much older and she's still working.
Skope: Where can people check out "In The Still Of The Night"?
Allen: iTunes, Amazon.com, CDBaby.com
Skope: Do you have a website, Facebook or Twitter setup where people can learn more about you?
Allen: www.newterraenterprises.com, although the site primarily features our film production company.
Skope: Any future plans to release more dance themed music or an album?
Allen: A 4-track EP of dance music will be released early next year. The tenetative title is "Night Sounds."
Be sure to check out the Cole Porter revamp of "In The Still Of The Night" by Allen D. exclusively at http://www.cdbaby.com/cd/allend
Douglas Garnett – douglas.garnett@gmail.com – http://www.vodrecordings.net – http://digdugdisaster.com