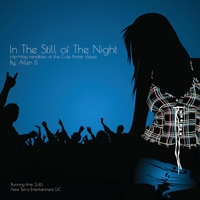 L.A.-based composer Allen D skillfully employs the software on his laptop to convert conventional romantic ballads to up-tempo electronic dance music. His work strives for a new way to showcase "the musical genius of the great American songwriters."
"Still of The Night" Video Clip
http://www.youtube.com/watch?v=L3qSUpD1Ajo
Allen has a four-track EP in the works, and it's due for release in early 2014. As part of that EP, we have the track "In The Still of The Night" — a song that was originally composed by one Cole Porter back in 1937. This is the kind of wholesome tune to which our grandparents shared milkshakes and held each other's hands.
Now we have it rendered 21st century style. Oh my, it is quintessentially modern. Not a lyric in earshot, but synthesizer jingle aplenty. There's one particular recurring note that provides for an added perkiness.
Allen D "In The Still of The Night"
http://k007.kiwi6.com/hotlink/0o0oiujr9l/In_The_Still_of_The_Night_1_.mp3
One wonders if Mr. Porter, composing this piece back in 1937, ever thought about how his song might be covered in future years.
Part of Allen's biography speculates on the reaction to his drastically revamped renderings: "The Broadway fans might take offense but we'll bet they can't resist dancing when they hear this!"
Obtain your own reaction at: http://www.cdbaby.com/Artist/AllenD
Also worthy of note is that Allen has previously received a BMI Country Music Award and is a Life Member of the American Federation of Musicians.
He now resurrects tunes from bygone eras and brings them up to beat with our rapidly-paced digital age.
 
Ray Cavanaugh – owleyesgatsby@yahoo.com