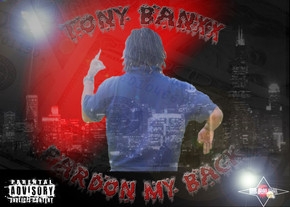 Storm Lake, Iowa may not sound like the hiphop mecca when most people think of the genre, but Tony Banxx is making a noise and putting Storm Lake on the hiphop map. Mr. Banxx serves up a new mixtape which came out just in time for Halloween weekend with "Pardon My Back".   The mix-tape features 13 soundtracks, plus appearances from L'Chelle, Blak74, Butta Beam and GS.
"I dedicate the mix-tape to my fans. It's for y'all. As always, you can get updates from my website at www.TonyBanxxWorld.com" – Tony Banxx
Skope: You've got a new release Pardon My Back, tell us about the new single "Good Girl"?
Tony Banxx: "Good Girl" came about because I just wanted to do a song for all the ladies who just kind of want to do their thing with no strings attached.
Skope: You're working with a number of producers, how did you hook up with them and can you tell us anything about them?
Tony Banxx: I work with other producers when I'm scouting around for new sounds, but I write all of my own music.
Tony Banxx 'Intro on Pardon My Back'
http://youtu.be/K1Dd-4vr_mM
Skope: What's the hiphop scene like where you're at, is it supportive compared to a scene like Los Angeles or New York?
Tony Banxx: The people here in Storm Lake, Iowa are really supportive, and I want to give a special thanks to Dolores Cullen of The Strom Lake Times for the article "Storm Lake on track to become a HIP-HOP TOWN" she did on a gig that "The BMMG (Block Money Music Group) Team including myself was a part of in August of this year.     It's not a very big place like LA or NY, but they're very supportive and real big fans of the music.
Skope: Who are some of your major influences, do you have any particular favorite artists?
Tony Banxx: My influences start with GOD and my family.   That's what really motivates me.   As far as artist, I grew up listening to the Notorious B.I.G, 2Pac, Jay-Z and Busta Rhymes.
Skope: Any tour plans to support Pardon My Back?
Tony Banxx: Yes.   I plan to travel on a promotional tour across the U.S. with my focus on continuing to build my fan base.   My fan base is growing, and as it grows I will work on expanding my promotional tour to other countries.
Press Kit – http://artistecard.com/tonybanxx
Skope: I read that you're part of BMMG [Block Money Music Group], what is BMMG and what do you guys do?
Tony Banxx: Block Money Music Group, simply known as BMMG, is an American record label and group focused predominantly on hip hop, rap and urban music.   BMMG has been established and founded for the purpose of becoming a global music leader with strong market positions in recorded music, music publishing, and merchandising.
Skope: How has social media helped your career as an artist?
Tony Banxx: Social media has giving me a lot of exposure.   It has gotten my music to the ears of people all around the world which has helped me establish a wonderful fan base.
Skope: Do you consider yourself more hiphop or R&B?
Tony Banxx: I'm Hip-Hop to the core … love R&B music, but hip-hop is home.
Skope: Where can hiphop fans find your songs? Where do you have your music available for purchasing?
Tony Banxx: I-Tunes and Amazon.com.
Skope: What's next for Tony Banxx? What would you like Skope readers to know most about you and your new release Pardon My Back?
Tony Banxx: Continuing writing and producing my music and staying focus on my fans, because that's what it's all about.   I want the people to stay in tune … got more singles on the way soon, so keep listening.   "Pardon My Back" touches on different aspects.   I wanted to make sure it was a little something on there for everybody to enjoy.   So check it out.   Support the music.
Check out Tony Banxx new single "Good Girl" from Pardon My Back, more info at http://www.tonybanxxworld.com and listen to more of Tony Banxx music on Jango at http://www.jango.com/music/Tony+Banxx?l=0.
Douglas Garnett – douglas.garnett@gmail.com – http://digdugdisaster.com