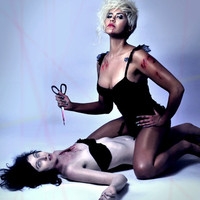 Diversity really does come in all shapes and sizes. Think about the bewilderment and repulse amongst pop-country fans when Garth Brooks undertook the Chris Gaines project… or when Beck stepped away from the frantic musings of Odelay and penned the sweet and melancholy Sea Change. So too is the story of electronica maiden, XO. Once on the acoustic-wielding indie coffee shop circuit; she finally eschewed steel strings for turntable tech and set out making trancey, hypno-dance tracks. The results of her DJ leanings has been captured on the edgy and ethereal, Lover's Blood–10-tracks of muted vocal samples, eerie layered soundscapes and every electronic effect in the book.
Opening with eerie sequences, "Love Me Inside" sets a precedent for the tracks to come: pure electronic, heavy-effects and wispy muted vocal stuffs. The chant vocals are not near coherent; more they add to the eerie background and rest atop as another layer to the soundscape. This formula continues into "Lick You Up" with more muted samples over drum machine generated/high treble backing beat and a continuous synth progression. The trancey ethereal feel of the songs continues in this one; like one long hypnotic collection of sounds on repeat. There are subtle differences here and there, like a tempo change here; more sequences there. But the effect is the same: hazy, dancey hypnosis tracks. "Hex" comes in with urgency as staccato key notes float in and out of audible over fuzz click backing beat. Vocal samples are discernable on this one, despite their whispered delivery and the effects attached to them.
http://xobeat.bandcamp.com/album/lovers-blood
Lover's Blood is an electronica album for fans of the genre (and apparently she is a ReverNation electronica darling) but the unremitting synth sequences; scratchy, generated drumbeats and strange, eerie stylings of the tracks are probably going to be too much for even the average consumer of electronica-laced club tracks. Diversity and creativity are the food and water of music as a whole; but this one is out there, out there.              
by Chris West – cwestlaz@gmail.com
I give this 3 Skopes.